"One's destination is never a place, but a new way of seeing things."
- Henry Miller
Since living in Berlin, I always wanted the opportunity to explore neighboring countries in Europe. My latest trip was to Prague, Czechia to to visit my cousin and do a little solo adventuring.
I booked a train trip with Deutsche Bahn to Prague. The trip is a surprisingly quick (for an American) - four hours over Dresden. In contrast to my last train experience (read all about that here...) I had a comfortable trip with wifi, outlets, and decent amount of air conditioning considering we are in Europe. I was able to call my cousin and parents using wifi on the train which is a luxury I don't normally have while out and about.
Arriving in Prague
I arrived in Prague around 7:00pm in a lesser-used train station that was close to my cousin's apartment. I was worried I might be disoriented and struggle to find out how to connect to public transportation since everything was in Czech. But the way finding signage was excellent - everything is color coded and uses very intuitive symbols to help guide you. Within 5 minutes I bought my 3-day Prague Public Transport Ticket and was on my way to the neighborhood of Karlín.
First Night in Prague
I connected with my cousin, Bradley, and a director he works closely with, Gabe Barre. Together they are working with a team on a musical production of Sherlock Holmes at the Karlín Musical Theater.
On our way to dinner Gabe and Bradley gave me a fly-by tour of Prague to get me oriented in the city. We walked the 20 minutes to our reservation on foot - I was happy to get moving after my train ride, and also, in hindsight, incredibly grateful for that initial orientation to the city that allowed me to instinctively navigate Prague for the rest of my trip.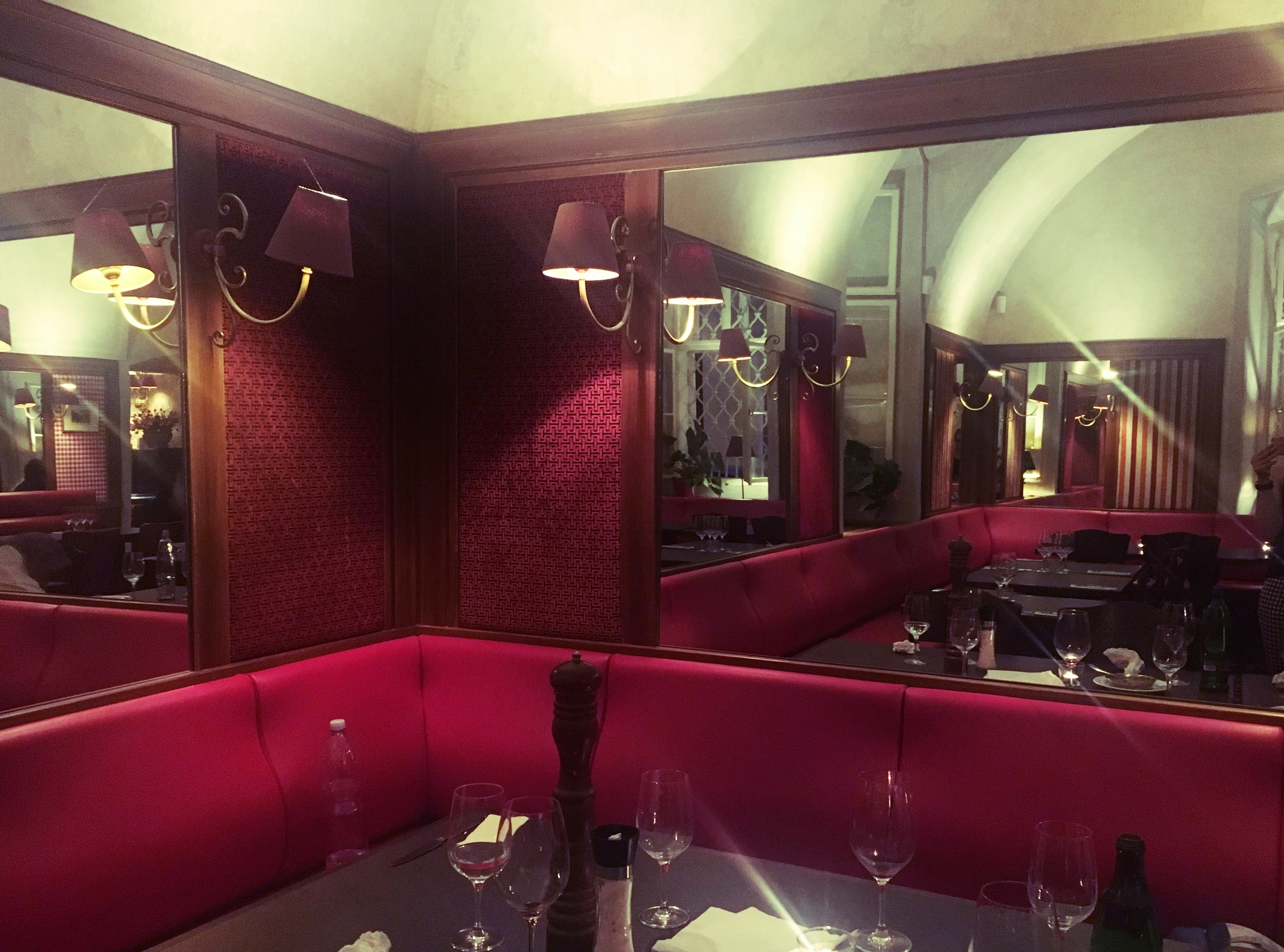 We shared a lovely dinner together at Cafe De Paris, one of Gabe's ultimate favorite get-a-way restaurants in Prague. The conversation with him, his wife, Tricia, and two sons, and my cousin was vibrant, intellectually stimulating, and funny.*
*Side note: if you are looking for a genius parody on today's mommy bloggers, please go watch, like, and follow Tricia and Gabe's Mommy Blogger Series project immediately. Hilarious!
Prague Day Two
Sunday started with a quick breakfast and then we headed for the Prague Castle to get our nerd on.
While there we visited the St. Vitus Cathedral with its breath-taking stained glass windows and vaulted ceilings, climbed its bell tower for a fabulous 360 degree look-out on the city, visited the Lobkowicz Palace, now a museum which houses the immense collection of art and artifacts, walked down the Golden Lane, explored the Old Royal Palace where a large ballroom used to hold coronations and other royal ceremonies, and wandered the amazing gardens surrounding this palace complex.
We devoted a solid 6 hours to our adventures here and didn't even see everything! Make sure you don't try to rush your time here - so many hidden gems and well worth a day-long visit for those history and art history nerds out there.
After our day taking in the amazing castle sights, we were in need of a change of scenery. We left the complex and headed back to the city on foot determined not to rely on a GPS. Instead, we wondered the streets using our natural sense of direction to get us back to the Karlín neighborhood.
We randomly stumbled upon the narrowest street in Prague, among the narrowest in all of the world. You might miss this from the street, as it looks like a simple little stairway between two buildings. But upon further examination, you notice a little crosswalk light necessary because only one person can go down or up the street at a time. At the bottom one finds a cute little restaurant with a patio overlooking the Čertovka canal that flows into the Vltava river.
We ended the night at a pop-up foodcart pod called Manifesto. What a cultural experience - on can consume food and drink from almost every culture. I decided to build my own Poke Bowl and Bradley opted for DimSum. A pleasant break from the sometimes heavy Czech specialties.
Prague Day Three
I started day three in the Karlín Musical Theater observing the dancers, actors, and tech staff as they prepared for the fight scenes in the Sherlock Holmes production in October. So fascinating to see the behind-the-scenes of what goes into making a fight scene look realistic to us audience members, while still being safe for the actors.
After exploring the theater, I left my cousin to his work and went out to explore Prague solo. I walked to the Rudolfinium which hosts concerts, went up the Tower Park Praha for another 360 degree view of Prague, but this time including the castle in the skyline, and visited the Old Jewish Cemetery (a wonderful, free alternative to some of the other over-run, touristy Jewish sites of Prague).
For lunch I followed a tip from one my best girlfriends back home, who is a beer aficionado. She said I MUST check out Vinohradsky Pivovar and boy, oh, boy was she right. This brewery offers refreshing Pilsner-style Lagers (as well as ambers and IPA-style beers) and an uncomplicated, delicious lunch menu. While it isn't super central to other Prague sites, it is well worth getting off the beaten path!
When Bradley was finished at work, we met up for a post-work happy hour with some of his colleagues in the Kasarna Karlin, a cultural center with bar, restaurant, outdoor movie theater, art galleries and ateliers, and music and sport opportunities. What a cultural treasure trove!
Then the two of us snuck off to grab a bite to eat at Lokal Hamburk. The Lokal restaurants are a local franchise serving beer and authentic, Czech cuisine. This place didn't have a franchise-y feel to it at all though and even the locals themselves frequent this place. Their unique bar system allows for ordering beers and taking them outside to the neighboring park to enjoy the beautiful summer evenings on a picnic blanket in the breeze. Patrons receive a punch card, like a tab, where the bartender marks how many beers you order (the card has 99 little beer glass icons on it and we wondered who has ever needed to order that many in a given night!) and pay at the end. A lovely last dinner experience in Prague!
Last Day in Prague
On my last day in Prague, Bradley and I shared a quick breakfast at a coffee shop down the street from the apartment called Můj šálek kávy. This little cafe serves fair-trade coffee and light breakfast options. Don't be like me and make the mistake of asking for milk and sugar to go with your coffee - the baristas here believe in a pure, black coffee culture and saw my request as contaminating that purity (however they did oblige my request).
Before I headed to the train station I wanted to hit up a non-touristy, Czech store to stock up on some postcards and unique gifts. First, I headed for Skoba, a workshop which makes one-of-a-kind diaries, sketchbook, and calendars. Second I hit up Harddecore, a small shop that features almost exclusively Czech artists, designers and makers.
I met Bradley for one last lunch together before heading back to Berlin. We went to the cafe right next door to the theater where I tried a Czech gnocchi with goats cheese and speck. Then it was time for us to part ways. I said my goodbyes and thank yous and took the short metro ride to the small train station where I arrived.
Karma and Connection
On the way back to Berlin there was a malfunction in the train where a whole car had to be closed due to no air conditioning and sweltering conditions. This wasn't clearly communicated to the passengers, however, and the train car numbers were switched without warning leading to much confusion about seat reservations. I observed a displaced, tired, young couple asking several fellow train passengers if the seat next to them might be free. They were turned down by every single person they asked. Eventually I saw them take a seat on the ground in-between train cars trying to get some rest. Since I had a cushy, four-hour ride and was fully rested, I offered the exhausted woman my seat so she could get some shut-eye for the last hour to Berlin. I had a wonderful conversation with her partner from Brazil and two other young travelers from Scandinavia in the meantime. I was so happy to connect with them through circumstance - we talked about their studies, dream jobs, and future plans as we watched the countryside fly by outside - and as quickly as we met, we all wished each other well as we all parted ways. It is amazing the wonderful connections you can make while traveling and I am blessed to have the opportunity to meet so many open people from all over the world!
"We travel, some of us forever, to seek other states, other lives, other souls."
- Anaïs Nin