This week I made a last-minute, quickie trip with a Kumpel von mir (friend of mine), Neema, to meet a mutual friend, Lennart, who lives in Hannover. We had two days to catch up, explore the city, and experience as much as we could - challenge accepted!
Getting to Hannover
We opted to try a relatively new form of transportation to get from Berlin to Hannover called FlixTrain. Now, FlixBus has been an affordable option in Germany for a while (similar to BoltBus in the states), but not too long ago, they expanded with FlixTrain providing an alternative to the monopoly that Deutsche Bahn on trains in Berlin.
So here's the deal: Berlin to Hannover 9,99€ hin and Hannover to Berlin 29,99€ zurück V.S. Deutsche Bahn 39,00€ hin and 39,00€ zurück. SO, while FlixTrain gets you a round trip for essentially the price of a one-way Deutsche Bahn ticket, there are some downsides. Namely that not every train car has one or more of the following: air conditioning, wifi, or outlets. Those might not seem so horrible given the money you are saving, but we had the unfortunate circumstances to experience a delay where our train was stopped on the tracks for 60 minutes without AC on day where the temps were mid-80s which meant pretty sweltering conditions without the option to disembark. But to FlixTrain's credit they came by with water twice and gummybears to try and ease our discomfort.
Bottomline: be prepared for "you get what you pay for".
Arriving in Hannover
After arriving in Hannover, Neema and I headed straight to the training grounds where the youth academy for the Hannover 96 soccer team practices, where Lennart coaches.
Fun to see our friend in his element with his youth players!
After dropping our bags at Lennart's apartment in the Stadtteil Linden, we headed out on the town to get an over-view of where Lennart lives and grab some food nearby.
We found a table outside at a little Vietnamese restaurant in Mitte-Lifden called Mr. Thang. Super yummy classics like Summer Rolls and familiar noodles-based dishes were on the menu - as well as a wide variety of sushi options. I would definitely head back here, especially because of the great outdoor tables, which flanked the Limmerstraße; a popular street that runs through Mitte-Linden that is great for people-watching.
Afterward dinner we headed to an Italian bar, Luci Della Motagna, where Lennart's roommate works, for a some post-dinner beers. After a round on the house (thank you, thank you!) we stayed for a second before heading on to the next stop.
Next on our list was a little snack to keep us going. We opted for a Döner Box to share and picked up another round of WegBiere (or travelers) at a Späti. We considered calling it a night and hopping on the U-Bahn back to the apartment, but somehow, the night still felt young. But just as we were headed on our way zu Fuß, on foot, it started to pour! We bee-lined between awnings in the general direction of home and on the way saw a Turkish shop that still had some delicious Baklava for sale. We decided to indulge in some until the rain stopped enough for us to head home and call it a night. What a jam-packed, great first night in Hannover!
We started day 2 with a scrumptious breakfast prepared by Chef Lennart - scrambled eggs, greek salad, Brötchen, cold-cuts and cheeses, and coffee were on the menu. Great fuel to start our day off on the right foot!
Next we grabbed our backpacks and headed out the door in the direction of Hannover City-Center. We walked from Linden on the west side of Hannover to the Ihme River which flows through the city. After crossing the Stadionbrücke we walked past the HDI Arena, the big sports stadium in the city, and continued on to the Maschsee.
Maschsee
The Maschsee is a mile and a half-long artificial lake that runs parallel to the Ihme River. Aside from being a lovely location and venue for water sport and recreation, the Maschsee also provides flooding relief from Springtime snow thaw that used to threaten Hannover.
Controversy also clouds the Maschsee because, although planned long before, it was built under Hitler as a way to provide jobs during the Great Depression. An eerie reminder of the dark history of Germany's past.
Rathaus Hannover
Just north of the Maschsee lies the "New Town Hall" or Rathaus Hannover. This isn't your run-of-the-mill Town Hall. This place looks like a legit castle! This building also houses the only curved elevator in Europe. Even just the elevator ride is an adventure and gives you a glimpse into the massive amount of care and planning that goes into retro-fitting a building like this for a modern Zweck, or purpose. For only 2-3.50€, you can ride up to the very top of the Rathaus to get fabulous 360 degree views of the city from three different balconies in the Rathaus' cupola. I HIGHLY recommend this stop to anyone in Hannover.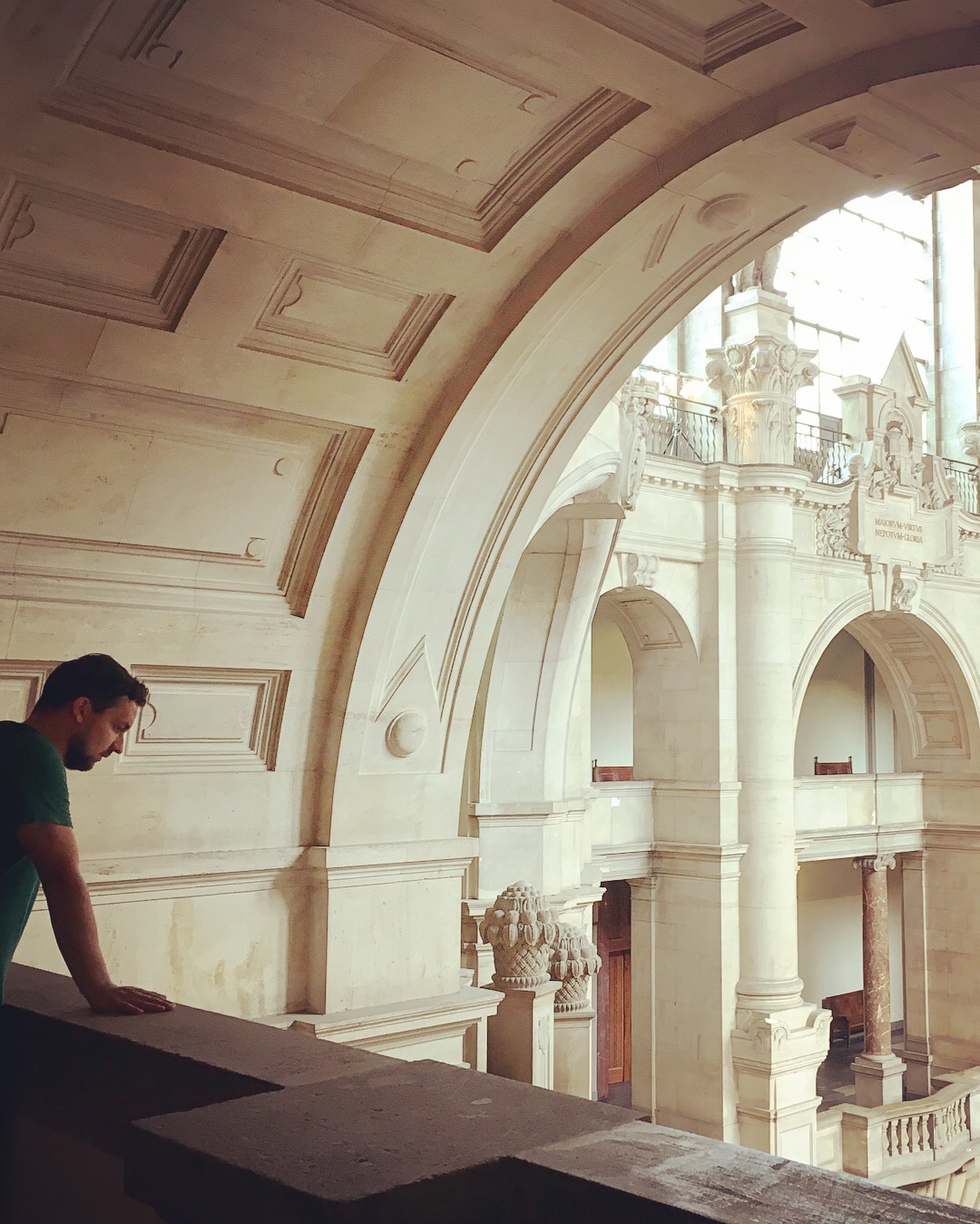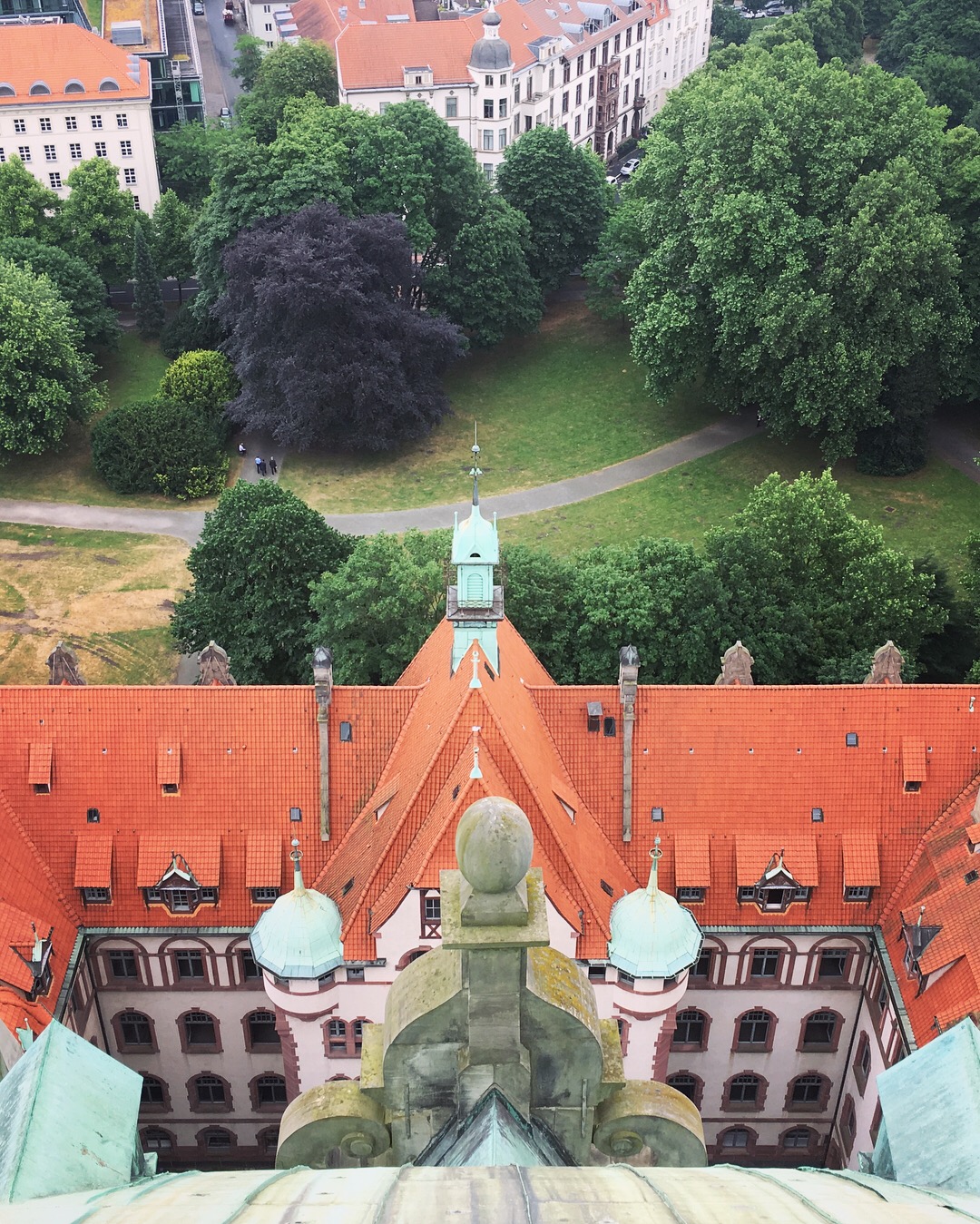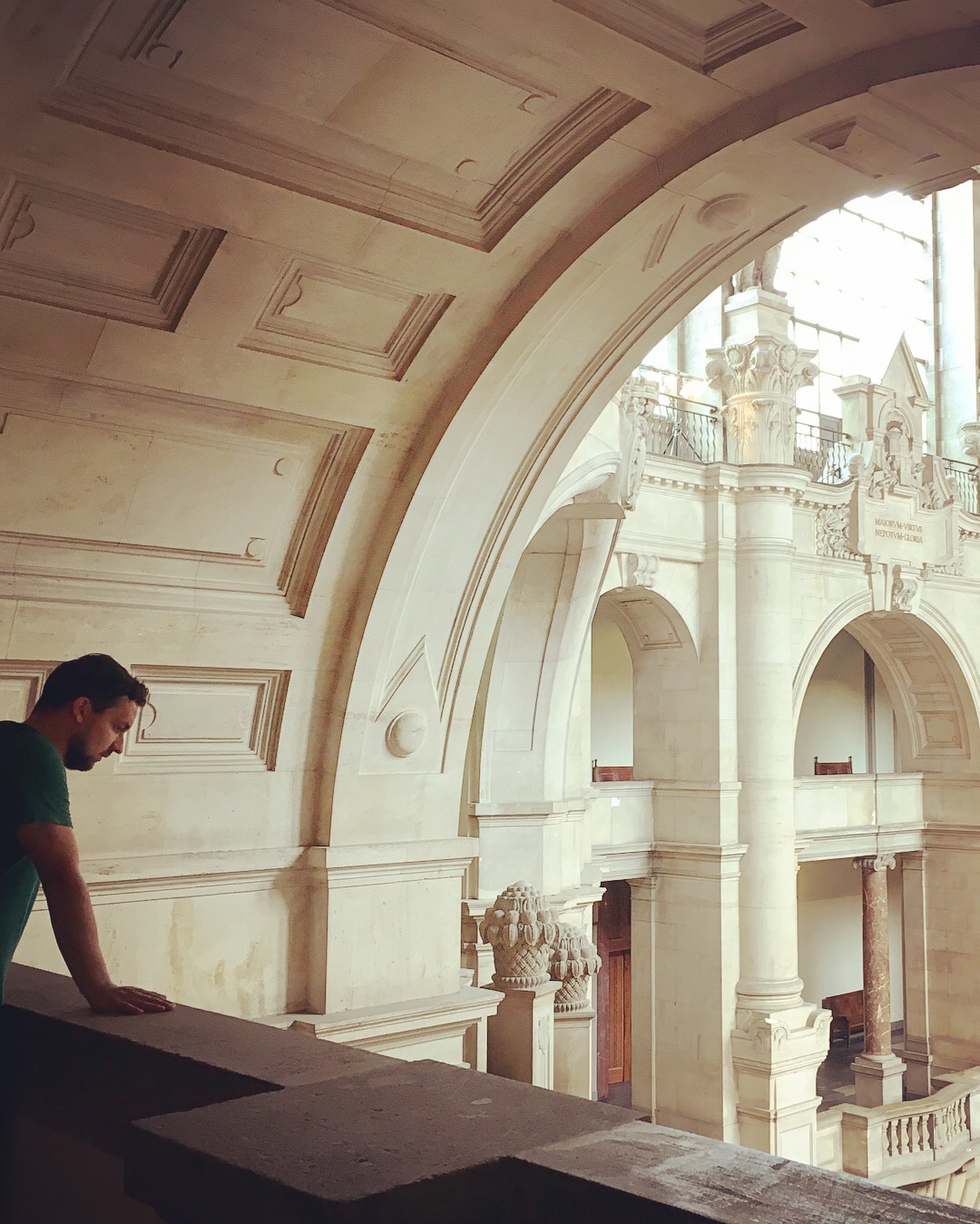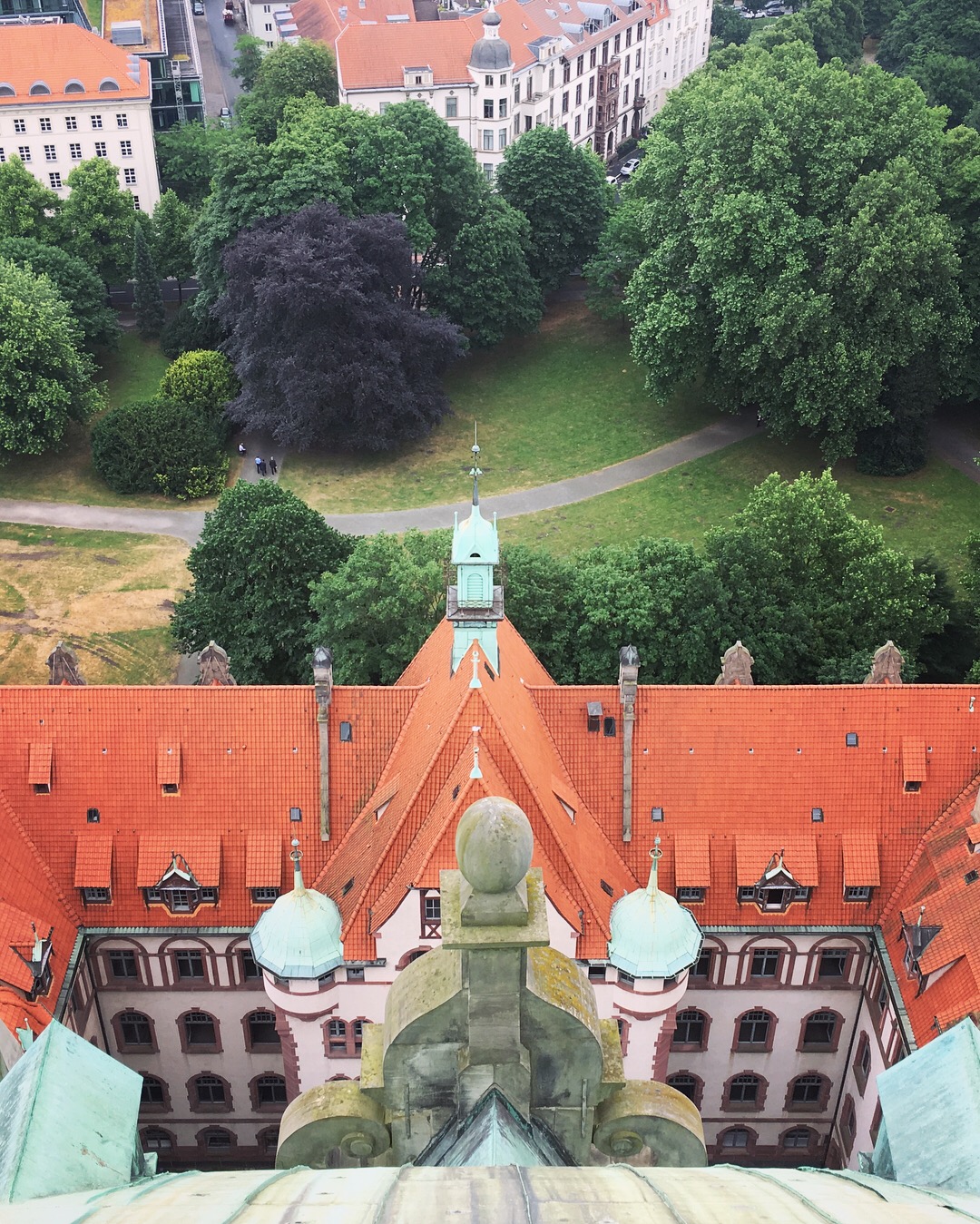 After spending quite a bit of time in the Rathaus exploring, it was time for lunch. On to the Innenstadt to grab a bite to eat. Lennart took us to the Markthalle Hannover, where guests can wander between stalls of restaurants, delis, and bars to find someone for each appetite. It is known as "der Bauch von Hannover" or the belly of Hannover. Not only just a great play on words, but also seriously "Yummola!"
Post-lunch we criss-crossed the Hannover Innenstadt - stops along the way included the Red Light District, an old city gate along the Leine river bank, and a coffee pick-me-up at the Teestübchen.
Herrenhäuser Gardens
Our second wind came after our iced coffee and we headed for the Herrenhäuser Gardens north of the Innenstadt. To get there we walked through two other gardens (the Welfengarten and the Georgengarten) along the Leibniz University and Wilhelm Busch Museum until we reached the Herrenhäuser Gardens. We opted not to pay the admission to the gardens, since it was already late in the afternoon and wouldn't be able to explore as much as we wanted to, but one can still see so much from the outside that it was well worth our while none-the-less.
As a quick side note; There is also a brewery called Herrenhäuser which makes one of the most loved Pilsners in Hannover. Pro tip: If you don't want to be outed as a tourist or noob, call this beer "Herri" when you order it!
Kulturzentrum Faust
We decided to head back towards Linden and on our way stopped at the Kulturzentrum Faust, which is a creative center in Hannover. This complex is full of graffiti and sculptures, and offers theater and other creative outlets for artists and to the community. Another amenity there is the Biergarten Gretchen, which is a fabulous gathering area with self-service bar and kitchen, plenty of table and benches, and a roof-top area with a great view of the Biergarten, flowers, trees, and people-watching opportunities. We thought we'd just grab a quick beer, but ended up staying for two rounds because it was just too nice to leave - it seriously doesn't get much better than a great venue, good company, fabulous weather and refreshing beverages.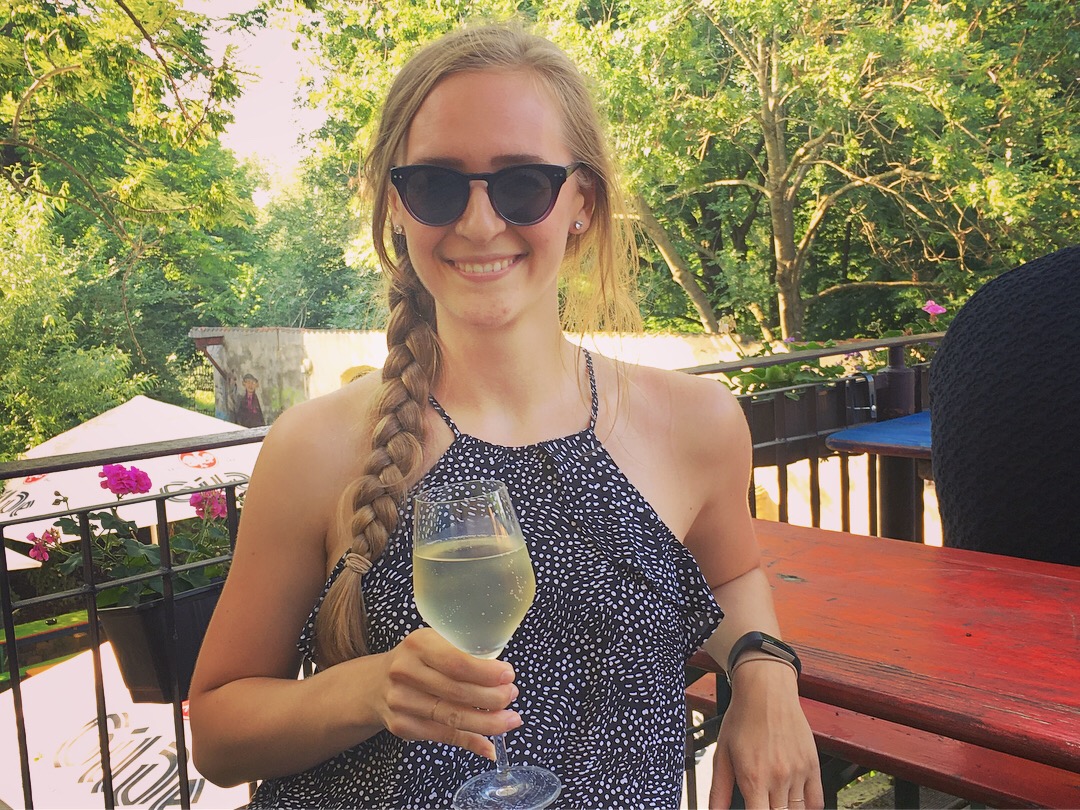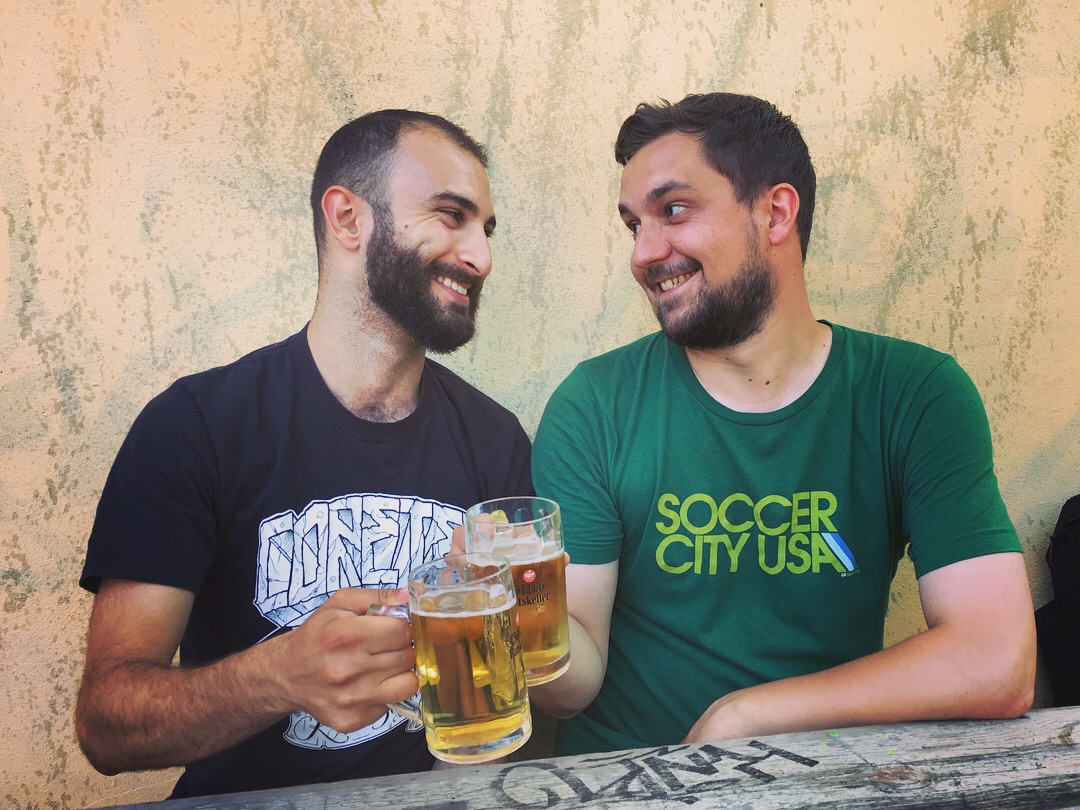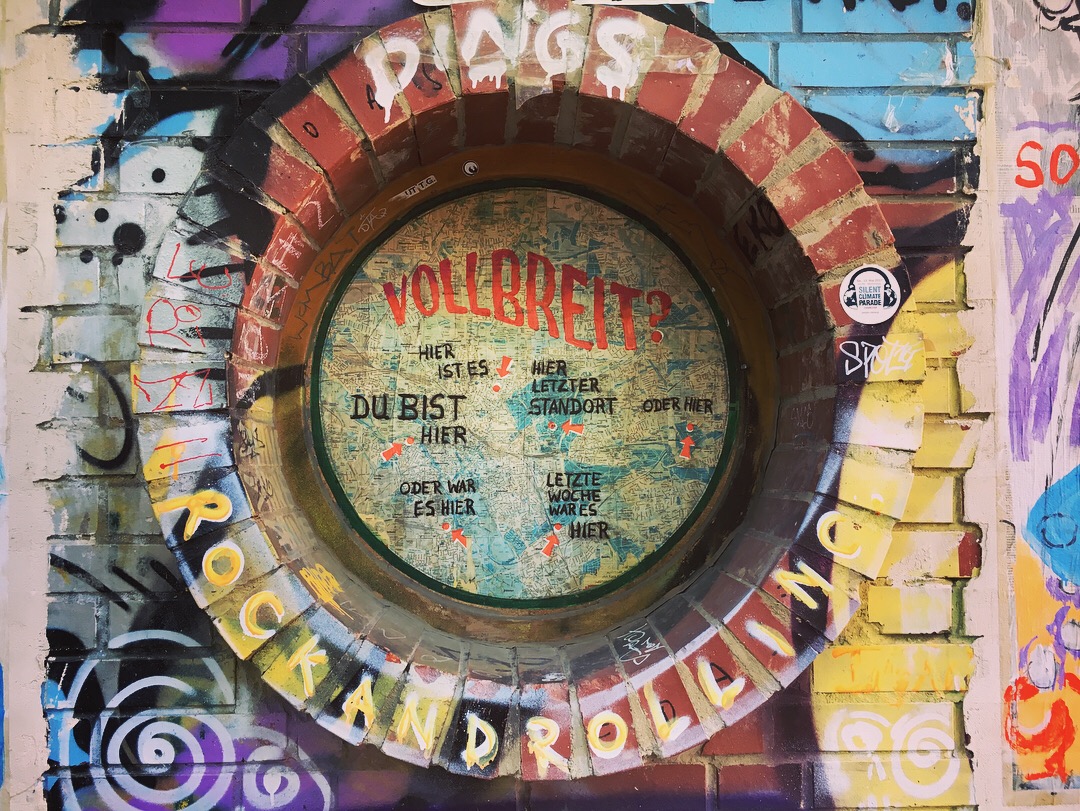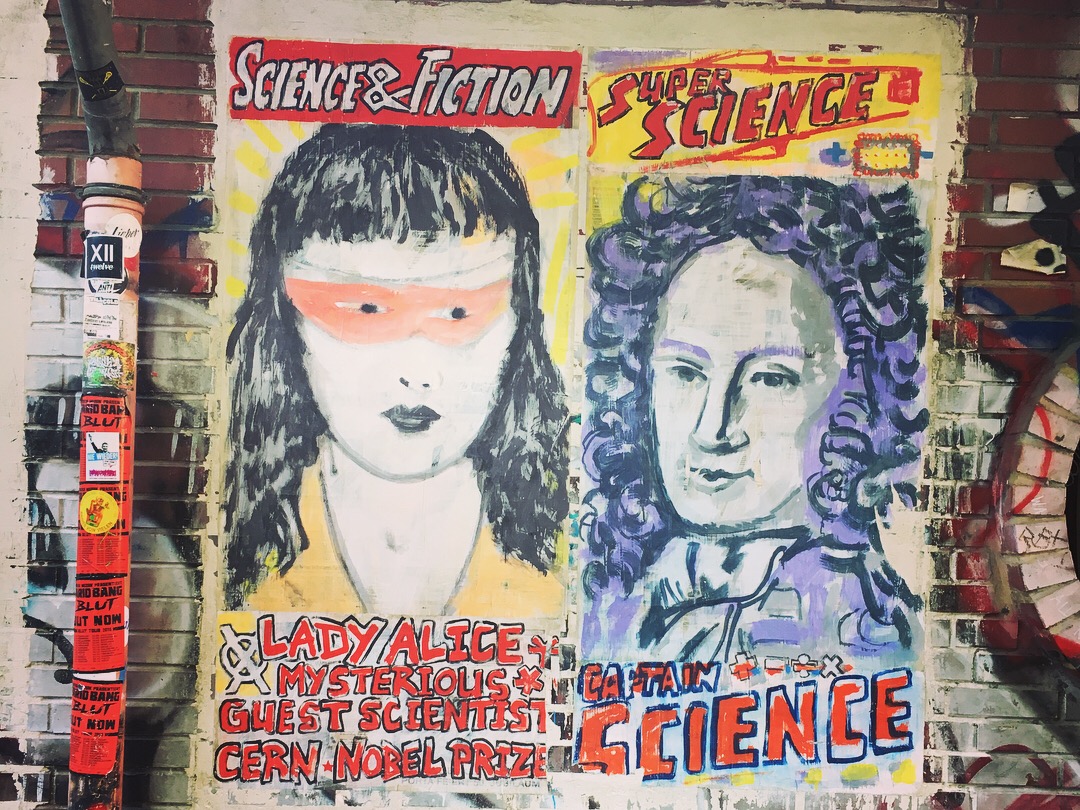 Spargel Dinner
After an amazing day we headed back to the apartment for a home-cooked meal. Chef Lennart worked his magic in the kitchen while Neema and I set a table in the Innenhof garden tucked away in lush greenery. I felt like we were in the Secret Garden!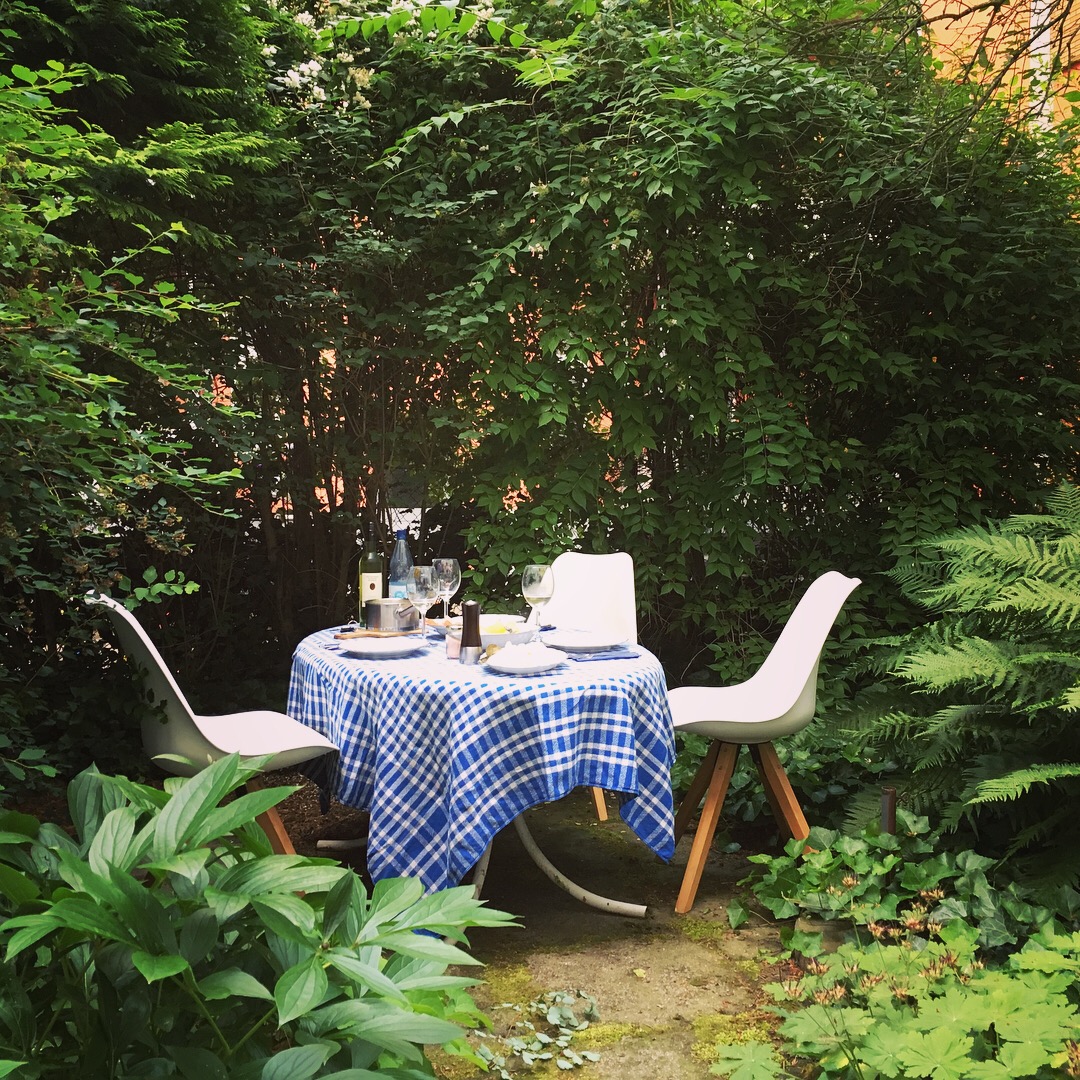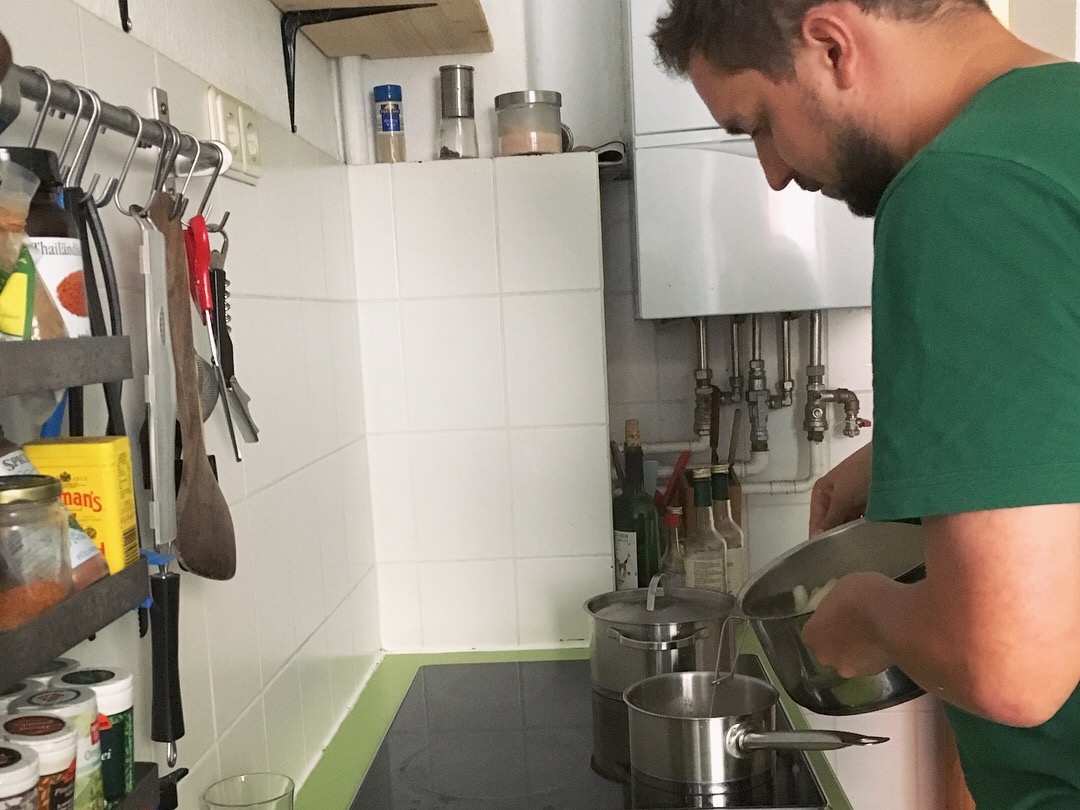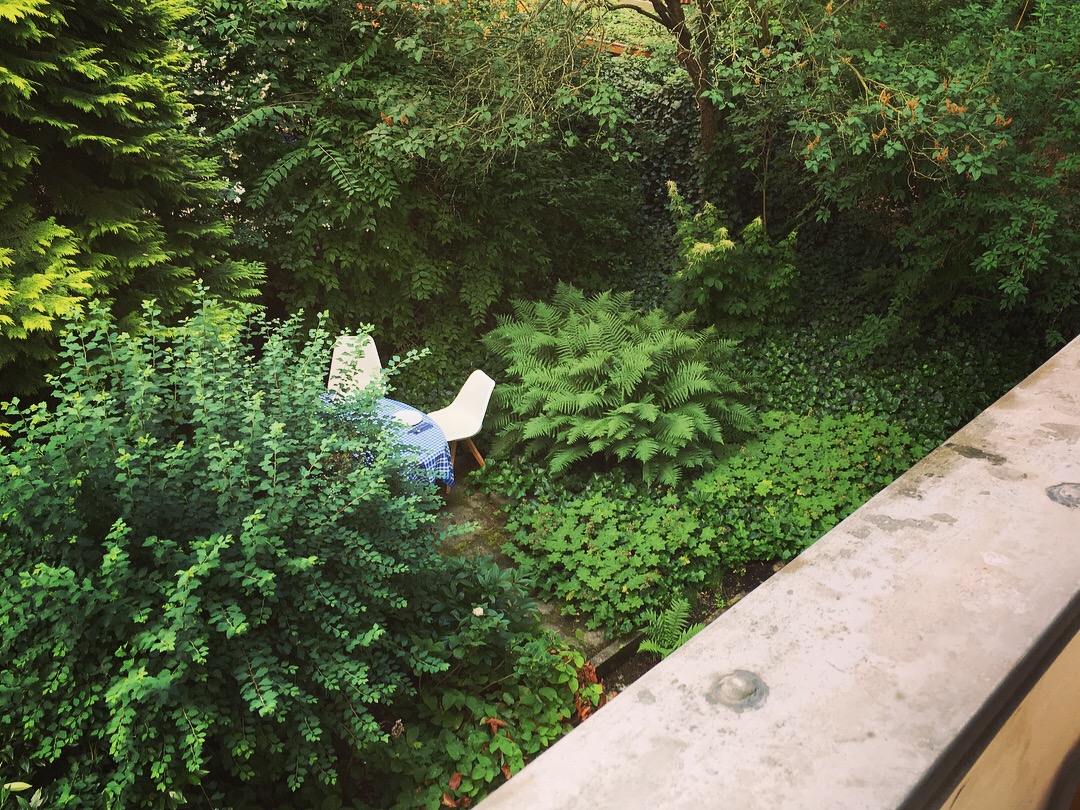 On the menu was a famous and traditional dish in Germany during spring - white asparagus. This special kind of asparagus is only in season for about a month between May and June depending on the weather and once it is gone, it's gone, so you have to enjoy it. Read more about the German love affair with white asparagus here.
Traditionally, the peeled, white asparagus is boiled (make sure to salt AND sugar the water to make sure the asparagus doesn't get bitter), the water from said-asparagus is used to make a creamy sauce with milk, egg yolk, frozen butter (this makes the sauce nice and fluffy), salt and pepper and a fresh lemon, and served with boiled potatoes and Schinken ham.* This is TOTAL comfort food. Definitely add it to your foodie-list if you haven't tried it yet.
*All pro tips I learned courtesy of Lennart :)
Last morning in Hannover
We enjoyed our last morning in Hannover with Lennart and his roommate, sharing a wonderful breakfast at home. We couldn't have had a more gracious and generous host in Lennart and really enjoyed meeting some of his friends as well.
Luckily for Neema and I, our train ride back to Berlin was 100% uneventful in comparison to our trip there. We found a good seat on the train, played some cards and ate a Brötchen, and before we knew it the train was rolling into the Zoologischer Garten train station.
What a spontaneous, whirlwind trip! Thanks to Neema for being my travel companion, Lennart for hosting us, and everyone in Hannover who showed us kindness, hospitality and generosity!