Counting down to Christmas in Germany
In contrast to the States, Christmas is celebrated on December 24th in Germany. And each week in December leading up to this day was marked by lighting a candle on the Adventskranz, or Advent wreath. This "wreath" can take different forms - sometimes it is a literal wreath on a table, and sometimes it is set up as a runner or centerpiece, and sometimes it is an elaborate wreath hanging from the ceiling.
Another way to count down the days is an Adventskalendar. This calendar has little doors, bags, or boxes that one opens to reveal a little treat or present. This tradition is beloved by children especially, but my family follows this tradition regardless of age! My German family was kind enough to include me in this tradition this year.
Once it gets close to Christmas, the hunt for the perfect Christmas tree begins. Christmas trees, or Tannenbäume, have real candles on them (with a water bucket or fire extinguisher always nearby) that makes a living room especially festive.
Weihnachstmärkte | Christmas Markets
Germany takes Christmas Markets to a whole new level. There are vendor stands with artisan goods for sale, sweet and savory treats to indulge in, and sometimes even performances on a stage. Each market has its own little flair, so you can visit them all and experience something different each time.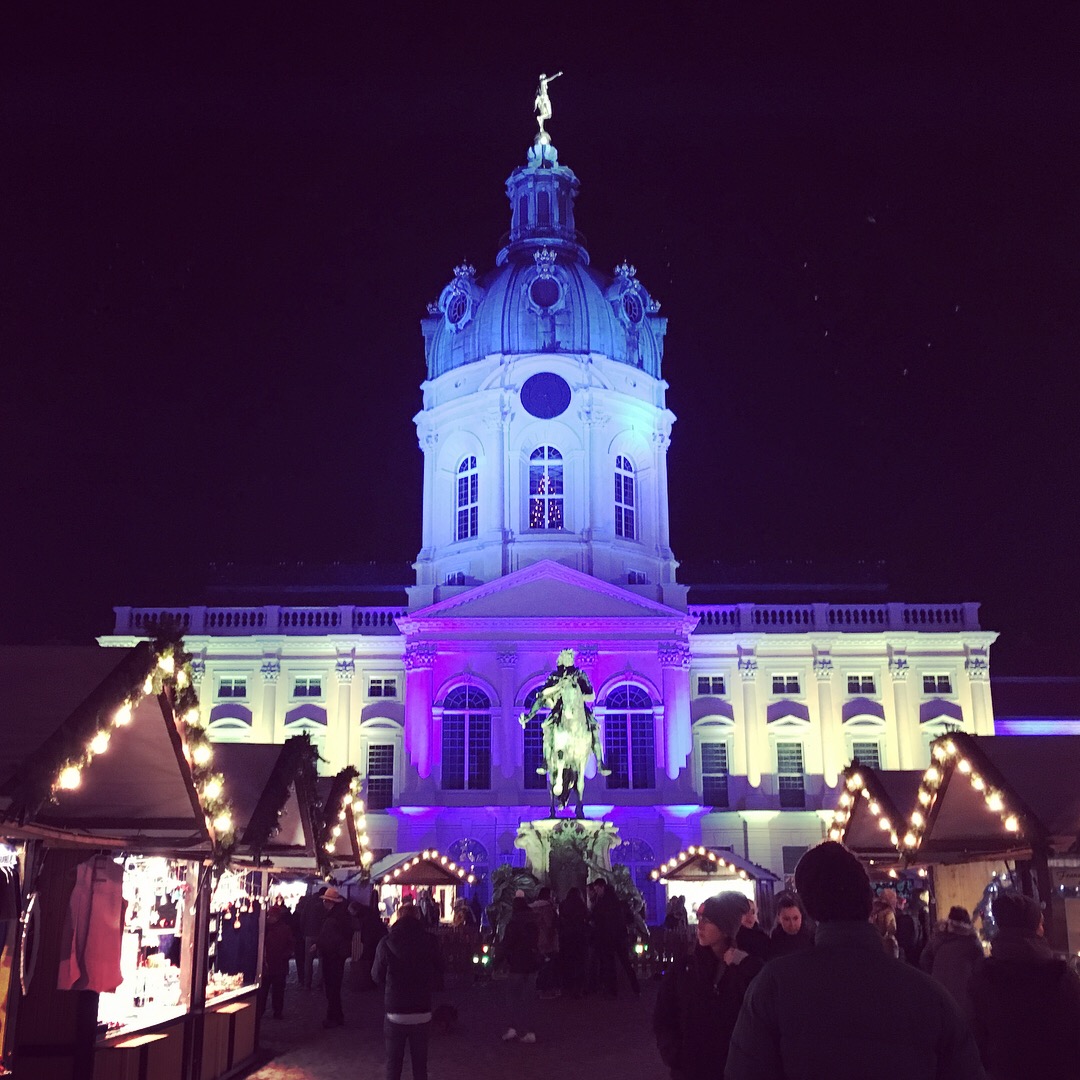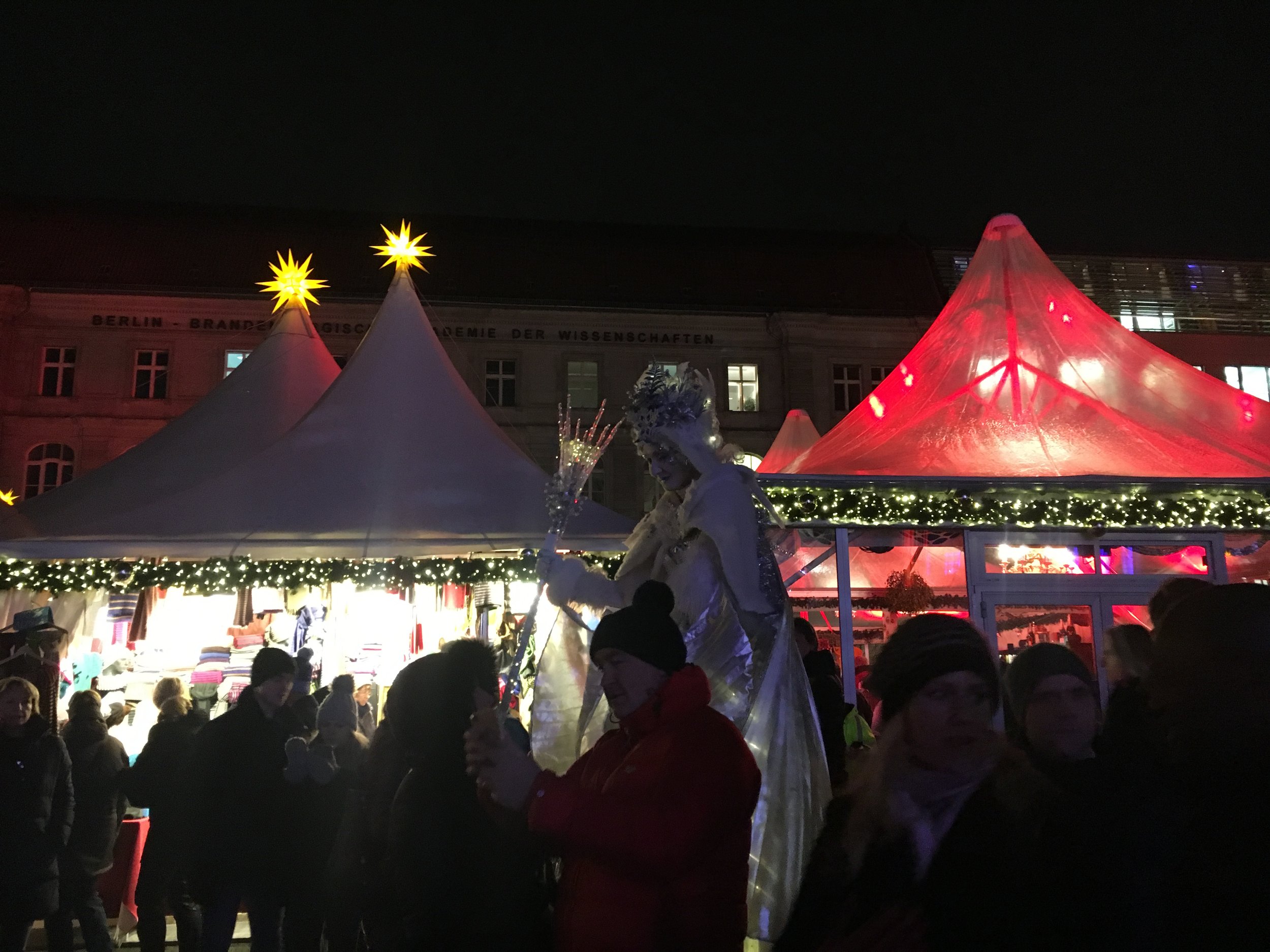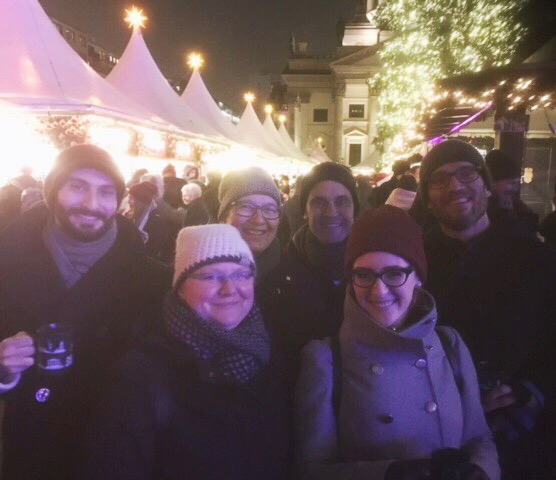 Traditional Christmas Treats
Christmas Markets feature many unique and delicious treats such as Baumkuchen, Glühwein, and Gebrannte Mandeln. Definitely give them a try when you visit a German Christmas Market!
Baumkuchen
Baumkuchen (literally "tree cake") is a delectable cake baked on a an open flame. Layers of batter are roasted on a spit to create a layer cake. When cut into, the cake appears to have rings, just like a tree trunk. Here in Northern Germany, this cake is often coated in a chocolate ganache.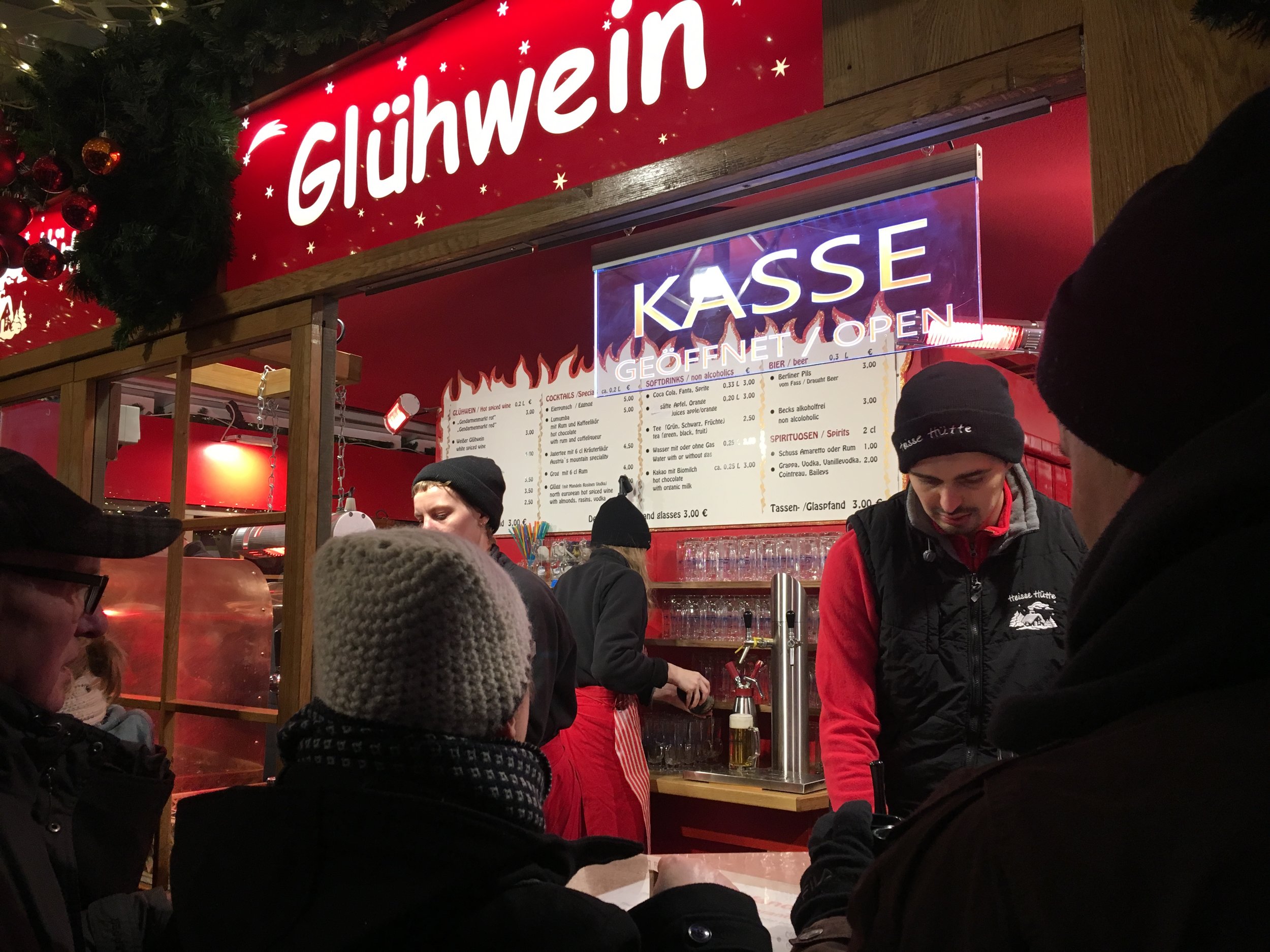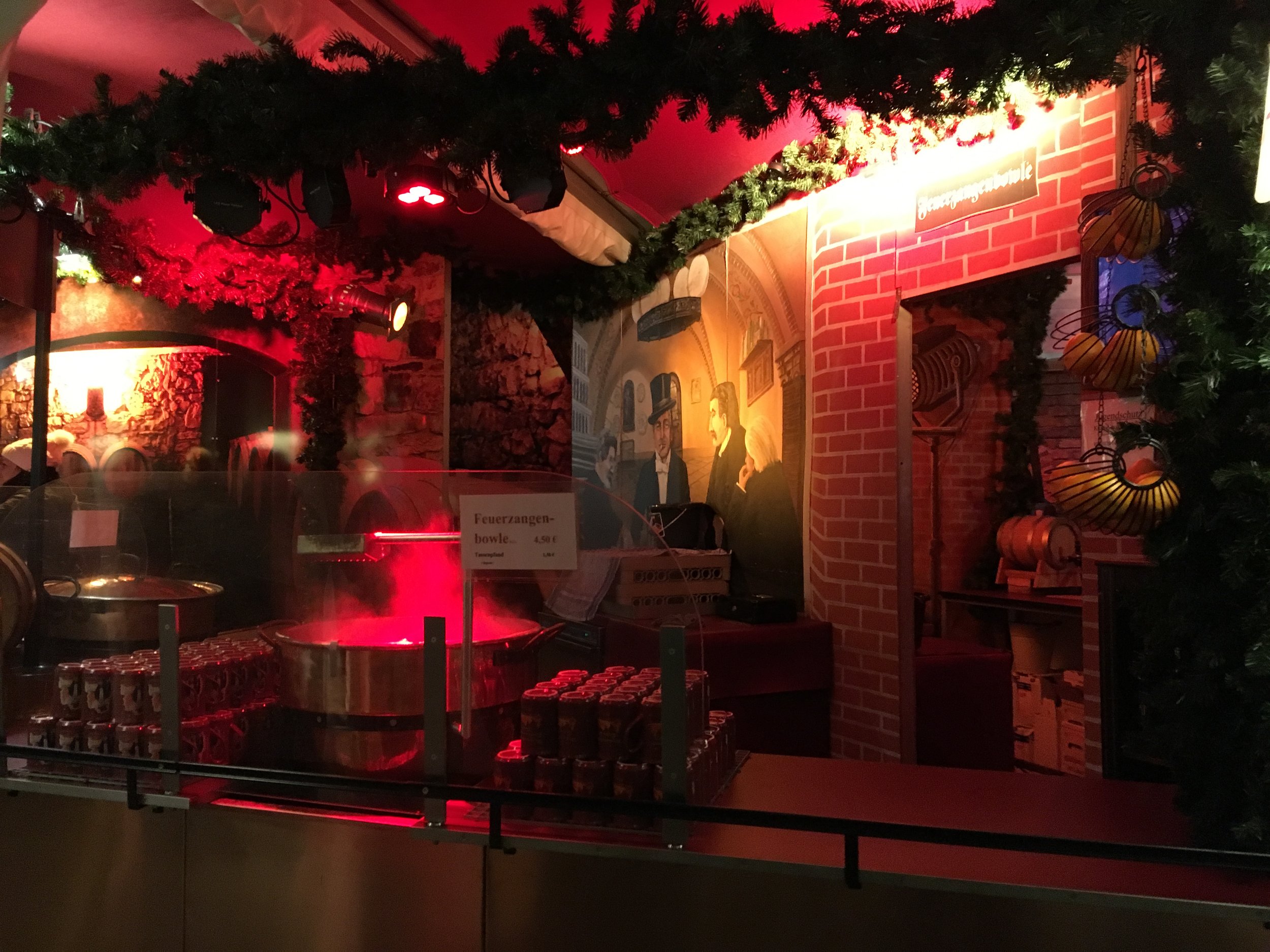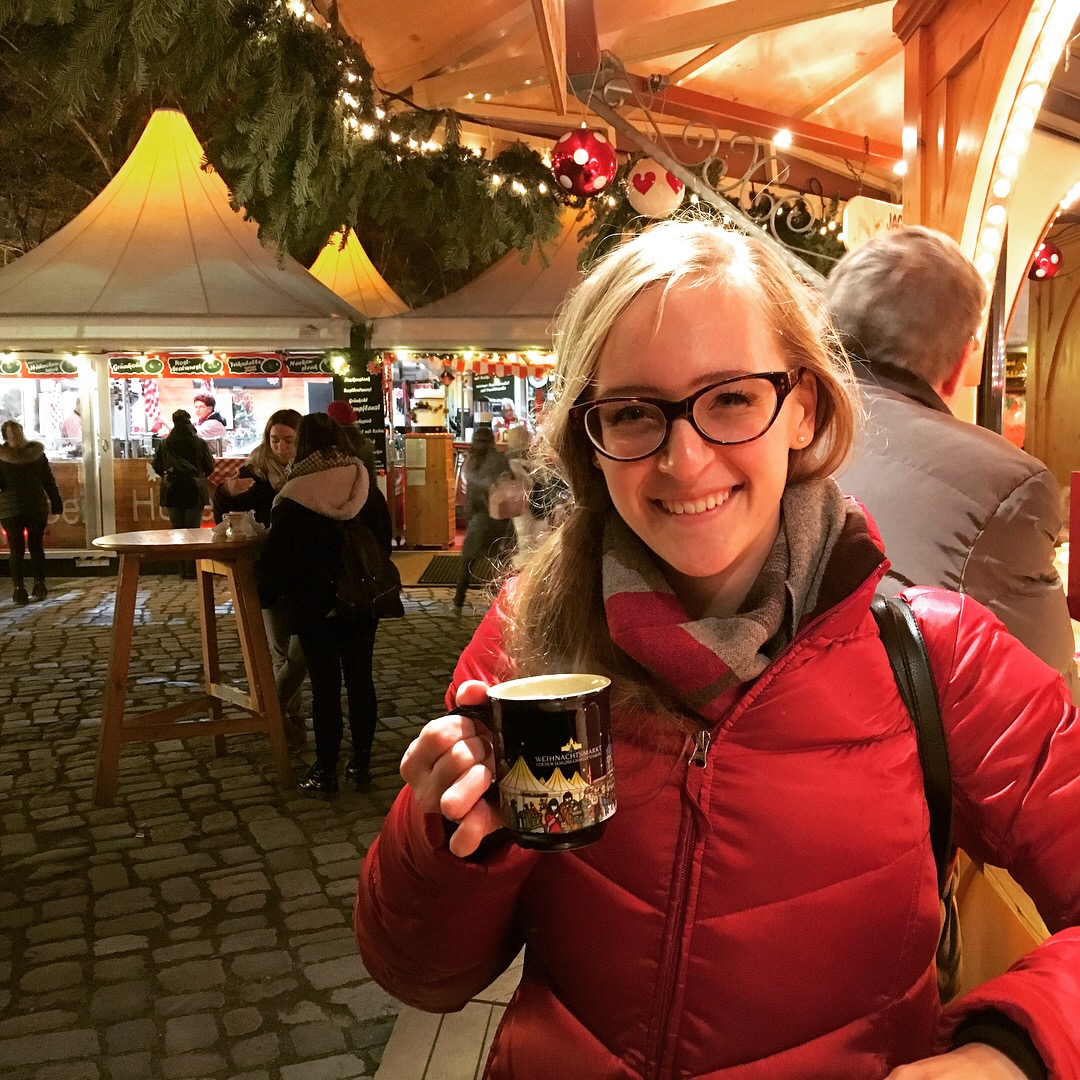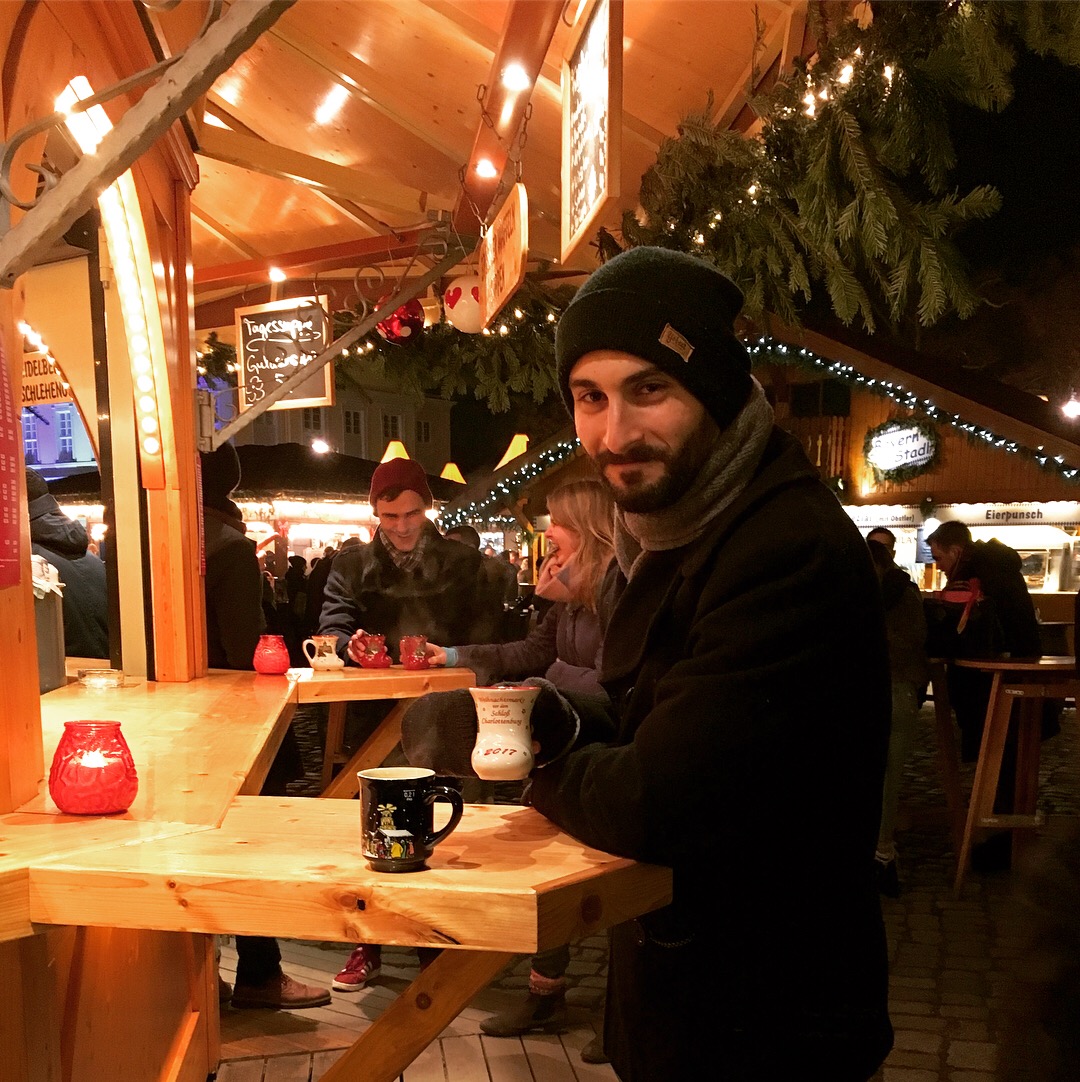 Mulled wine, or Glühwein, warms adults at every Christmas market in Germany. Recipes can vary, but most include a red wine base with added spices like cinnamon, clove, and nutmeg, as well as orange slices.
Glühwein is sold by the mug here for ~3-5€, but you also receive a Pfand, or token that means you get some money back for returning the mug at the end of the night - a great way to incentivize reusing a mug and insuring people return their glassware where it belongs. But honestly, some people (I'm guilty of this!) forgo the Pfand and don't return their mug in order to take one home a keepsake. Most every Christmas market designs their own mug, so it can make for a wonderful holiday mug collection.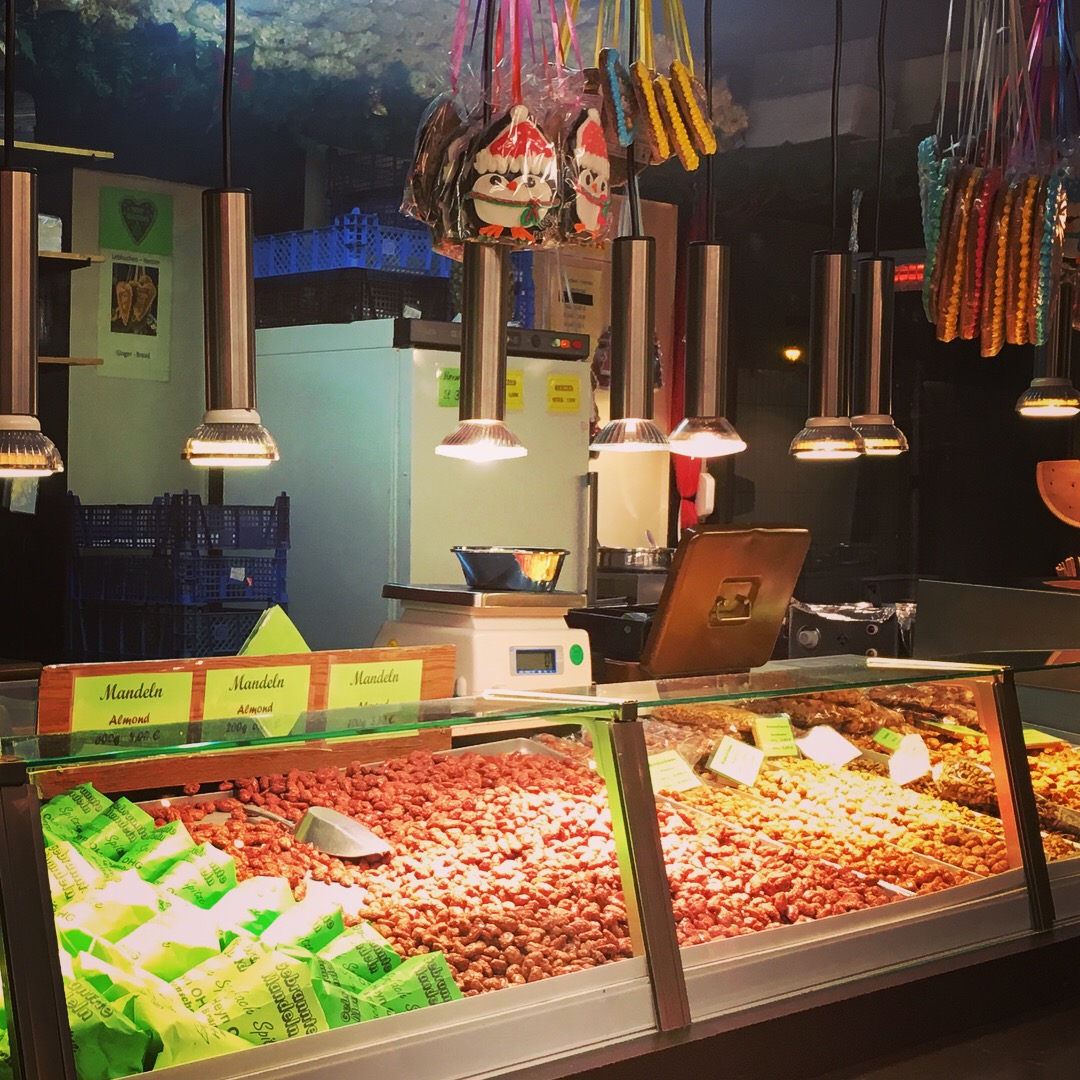 Gebrannte Mandeln translates literally to "burned almonds", but they are actually just deliciously roasted, candied almonds popular during the holiday season.
In Germany, they are often roasted over an open fire in a spinning metal drum and coated with a cinnamon and sugar mixture and served in a little paper cone. Satisfyingly warm and crunchy.
Heiligabend | 24. Dezember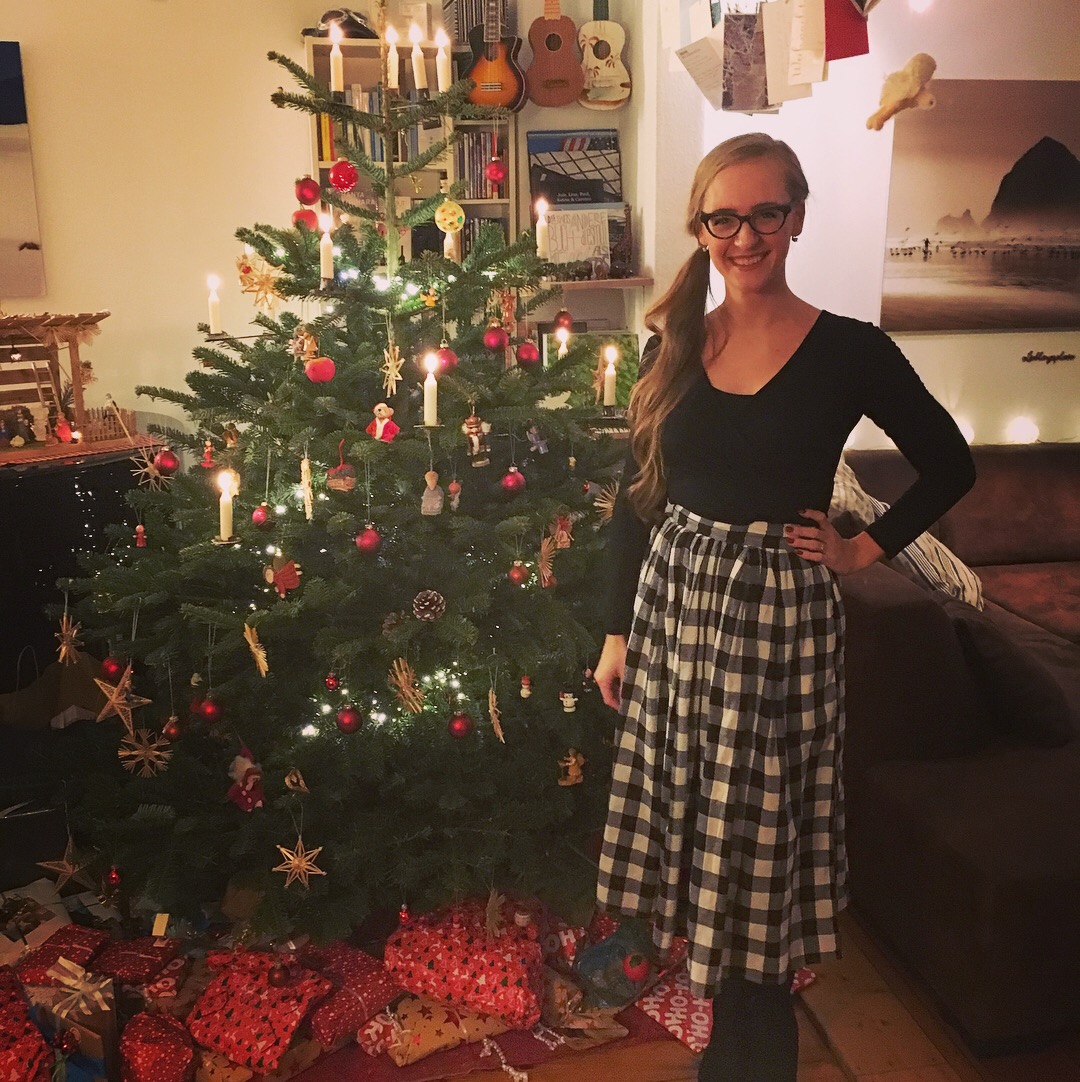 Germans celebrate Christmas on the 24th of December. Many people, religious or not, go to their neighborhood church to sing songs and hear a short sermon.
We came home and opened presents together and shared a delicious dinner and dessert.
Later in the evening we bundled up for Christmas caroling, or Weihnachtsblasen. Those who can play, bring brass instruments to accompany neighborhood citizens as they singing traditional German Christmas songs and drink Glühwein.
1. and 2. Feiertage | After-Christmas Holidays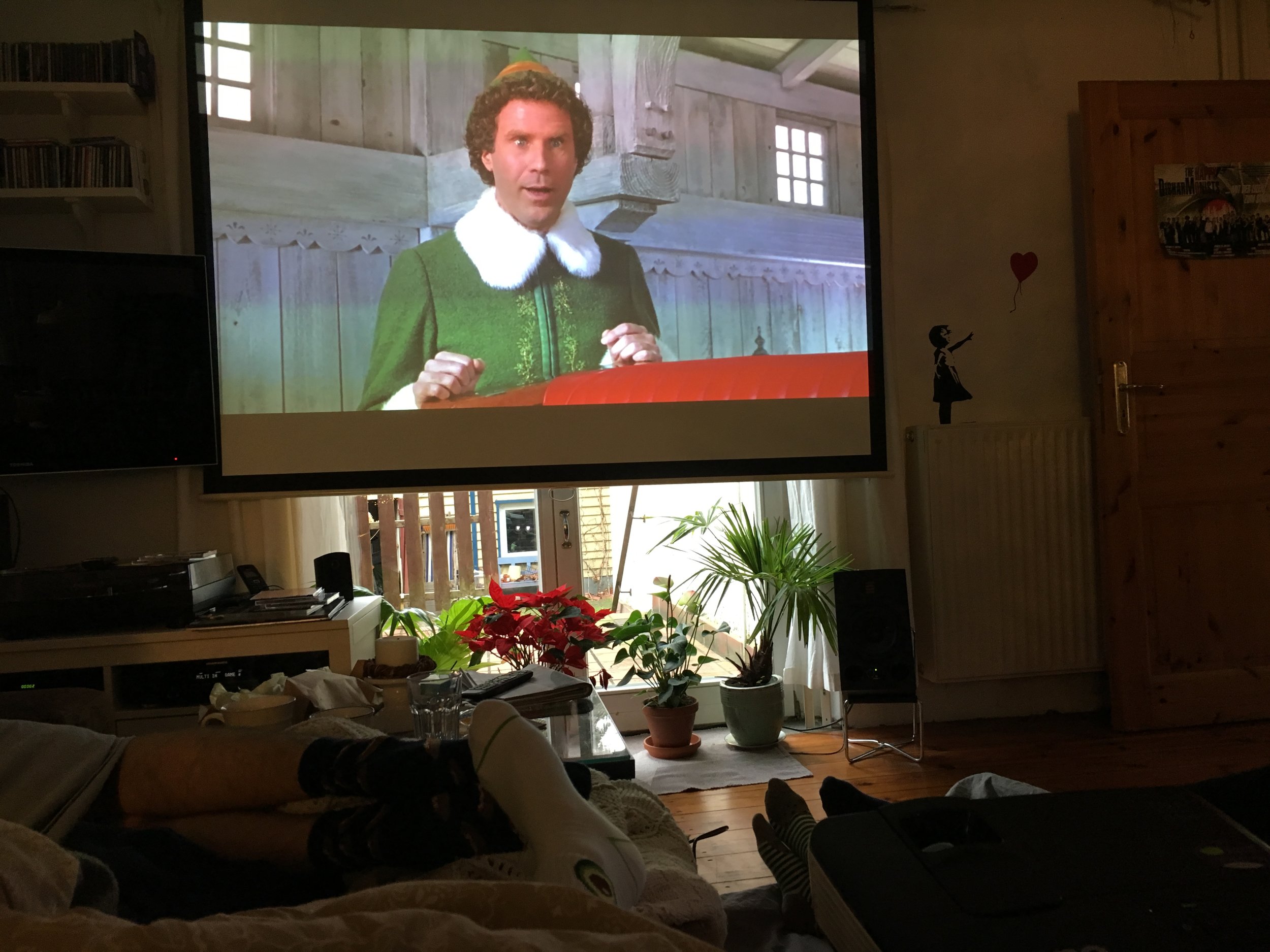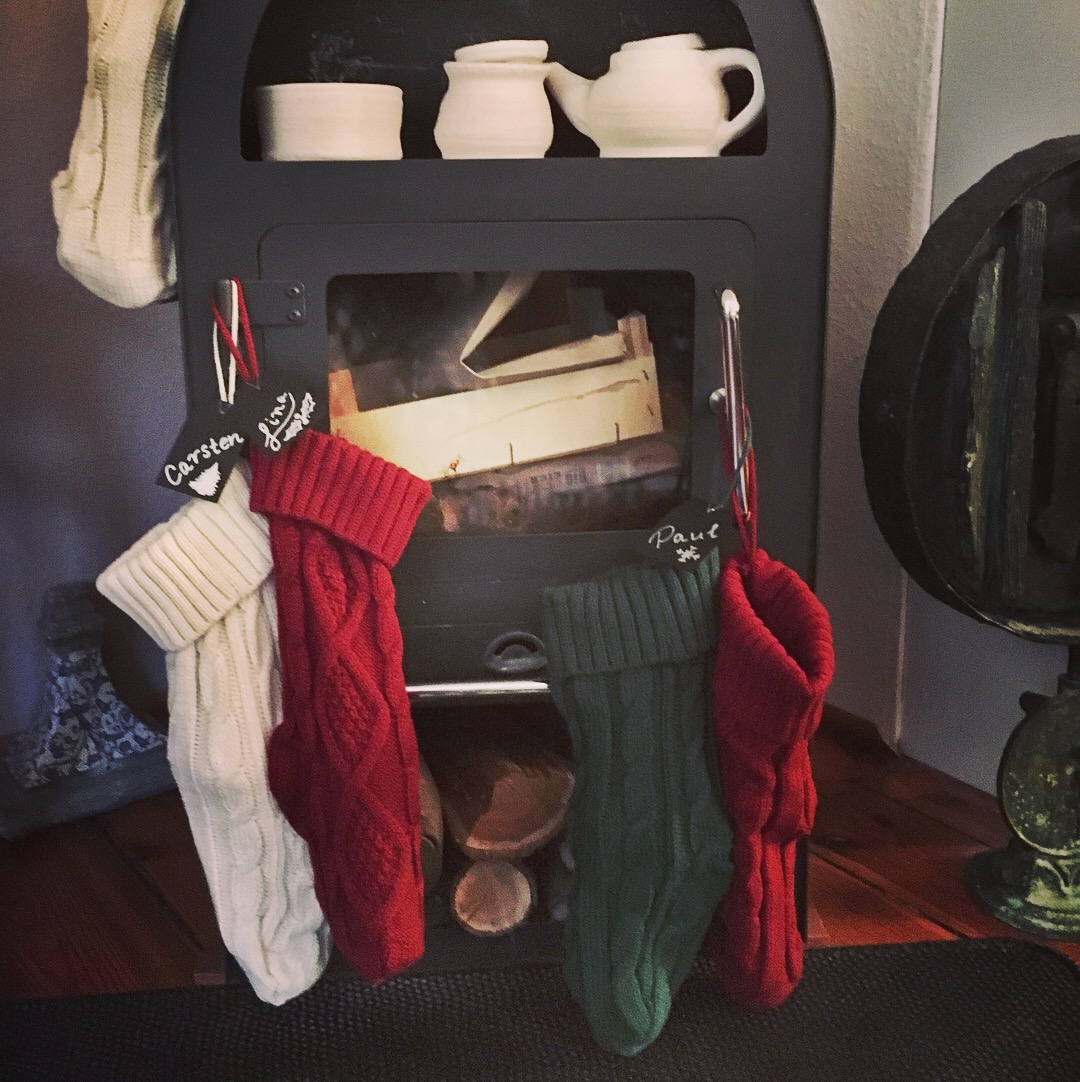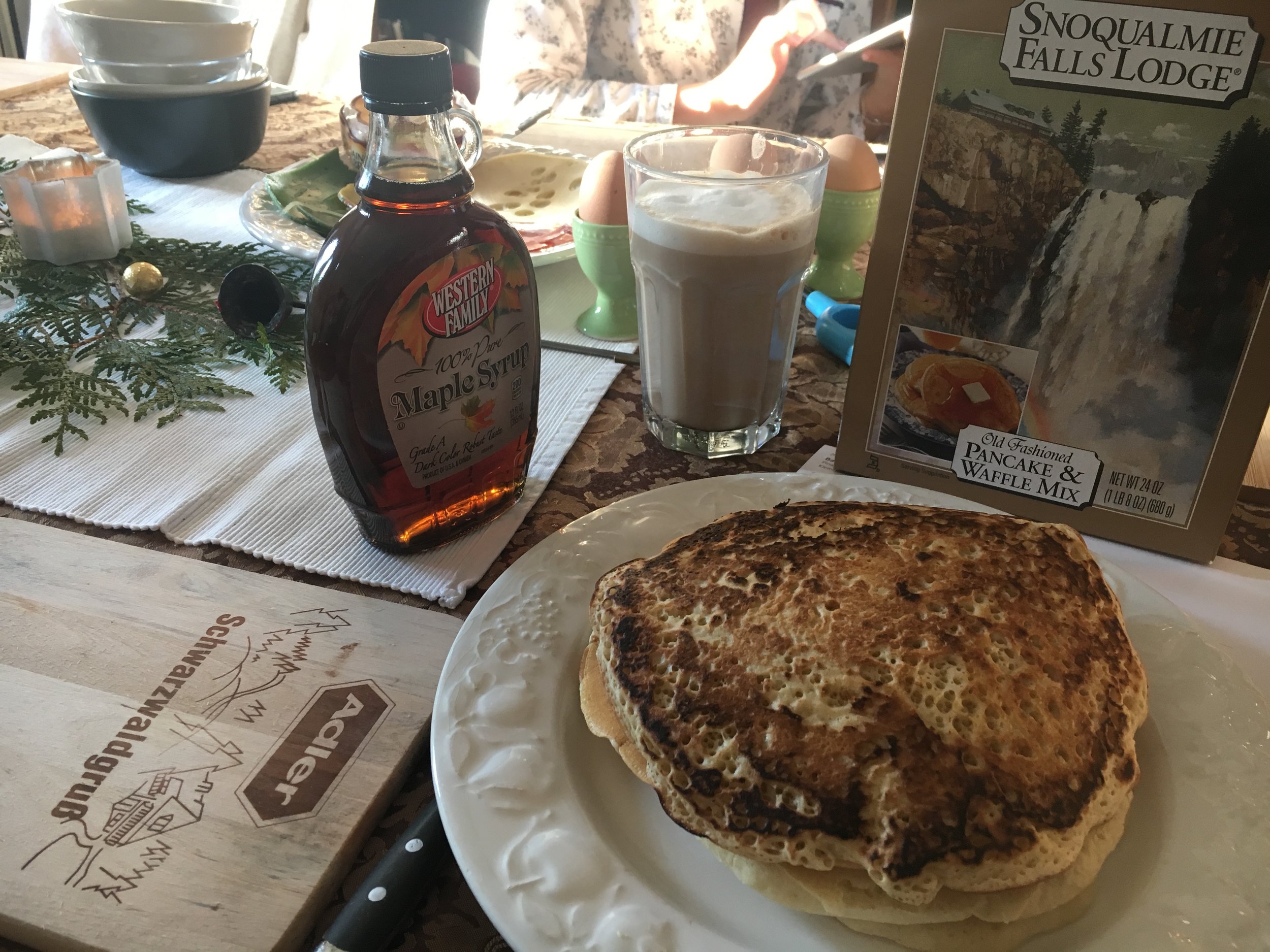 1. Feiertag: Schlutztag
The day after Christmas, the 25th, is the 1. Feiertag, or the first holiday. For my German family, this day is known as Schlunztag, which is reserved for staying in pajamas and marathoning Christmas movies. We watched the Home Alone movies (known as the "Kevin" movies), Drei Haselnüße für Aschenbrödel (a Christmas version of Cinderella), Der kleine Lord (Little Lord Fauntleroy), which are all very popular here in Germany to this time of year.
I brought a couple American holiday customs with me as well which included stockings, pancakes and North American maple syrup, and the movie Elf. It was fun to exchange Christmas traditions with my German family.
2. Feiertag
After a relaxing day after Christmas, we needed to get out of the house. So we went on a night-time photo excursion into the city. It was a really nice way to cap the holidays before returning to our normal schedules.
Pictures to the right: Kurfurstendamm BERLIN lights, Brandenburger Tor with Christmas Tree, and der Alex from afar.