Jetlag is tough. Someone told me that you need a whole day per every hour of time difference to get over your jetlag. That puts me at 88% through the jetlag process as of today. But I've had plenty to keep me busy over the last week to help me get through. Here's a quick little recap of my first week in Berlin…
After 21 hours underway, I arrived at Berlin Tegel around 5:30pm. I mentally prepared myself for the fact that I was sure most of my bags wouldn't arrive on the carousel. But to my surprise, the last of my checked bags appeared on the conveyer belt just before it ground to a halt. That's right, the last bag on the plane.

I loaded all my bags high on a luggage cart and wheeled out to where some of my dearest friends waited patiently for me. Greeted by huge hugs and well wishes, I sighed a breath of relief. I made it!

Next my angels of friends helped me lug my belongings onto the bus to head towards Kreuzberg. I was scheduled to meet an old work collegue of mine, who would hand over the keys to my new apartment. I managed to get to the grocery store with a friend to stock up on some basics that would come in handy on the next day before heading back to the apartment and crashing. HARD.
After an unrestful first night's sleep, I awoke at 4am. Realized I had zero internet connection, only €5 on my old German SIM card and nothing opened until 9 or 10 am. Faaaabulous… Luckily I still had a few podcasts and movies downloaded on my devices to watch while I started to unpack my big bags.

Once the rest of Berlin started to wake up, I headed out to fix my internet problem (totally a first world problem, but definitely a necessity, especially when trying to reassure your parents in the other side of the world that you are safe!) and run some errands. Then home for a nap!

When I woke up, it was time to venture out again. I couldn't let the beautiful weather go to waste just because I was sleep deprived! So a friend and I rode the subway to the Platz der Luftbrücke where there is a memorial to the Berlin Airlift during WWII. A small fan-shaped park lined with large hedge and trees at the perimiter provides for a buffer from the loud and bustling streets surrounding it - a little quiet, green oasis in the middle of Kreuzberg.

We capped off the evening by walking the nearby Bergmannstraße. I was pretty familiar with the area from my last stint in Berlin, but in several months I already noticed a huge change! Namely the Parklets, or little seating areas, dotting the sidewalk, that provide a wonderful place to take a rest, eat ice cream or listen to music. We sat for a good half hour talking and listening to the live music waft over from the bar across the street. While some Berliners are complaining about the slower driving speeds in this area because of the new seating, I think it is a great solution to pedestrian safety in this neighborhood.
I slept a little longer and awoke to glorious morning. I threw open my windows to a blue sky and the sweet sound of birds chirping. I took it easy that morning knowing a had party plans later that day.
A girlfriend of mine was celebrating her upcoming birthday in a local pool bar called Haubentaucher. She coordinated an amazing afternoon and evening in a pool-side lounge with drinks, food and fun for all.

I reconnected with a few old friends and met many new, kind people as well. What I was most grateful for, was meeting my girlfriend's family, who were visiting from India and Australia. So special to finally connect with the people you always hear so much about in a friendship and who helped form your dear friend into the person they are today.

Between swimming, chatting and indulging, we all had a massively fun time celebrating another year around the sun for our sweet friend. As the sun set, we all went our own ways, sun-drunk and happy.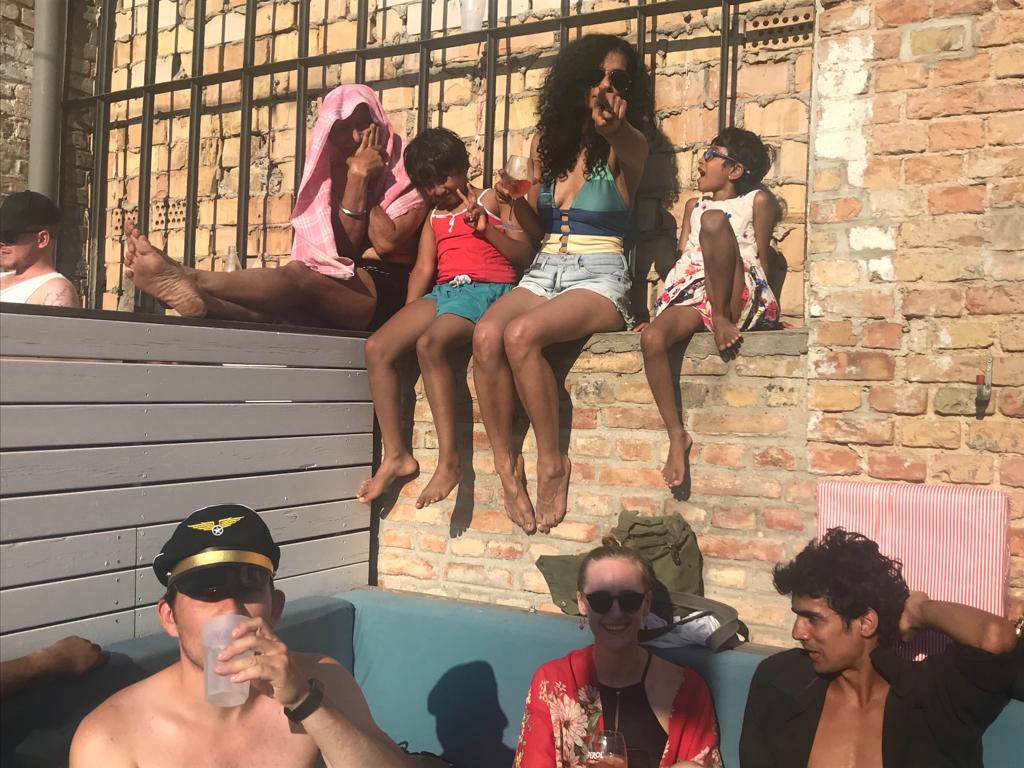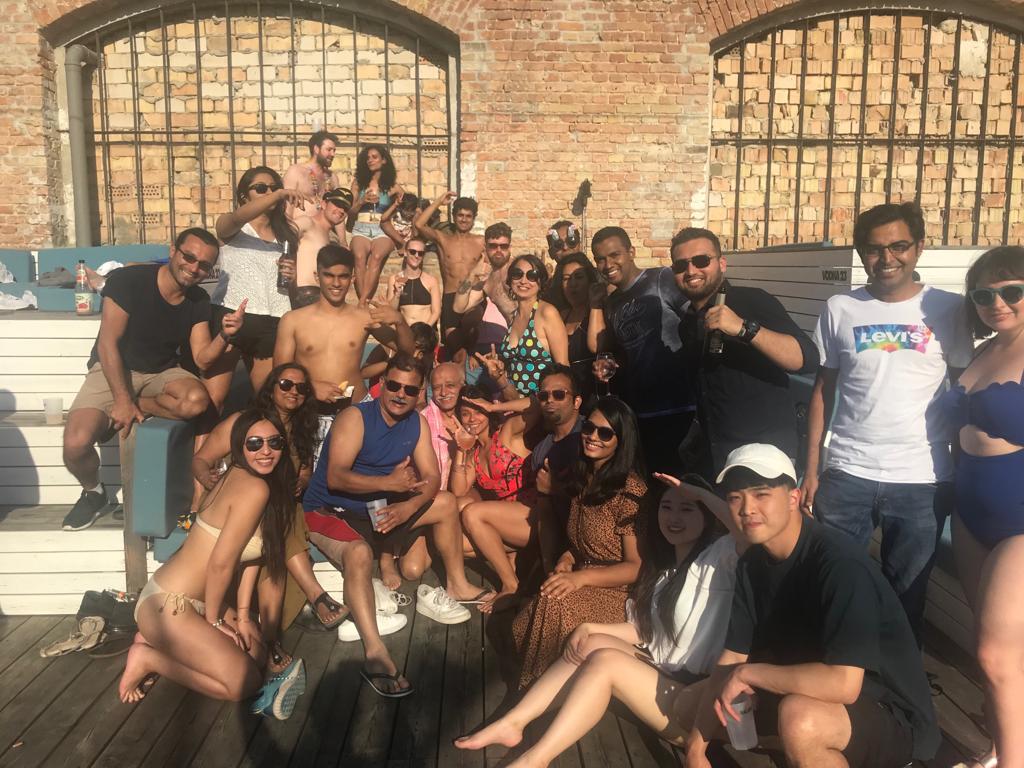 I ventured to the Bürgeramt, Citizens Office, to register my address for official bureaucratic purposes. This is required within the first 14 days after your arrival if you wish to stay longer than the maximum 90 Days tourist stay allowed without a visa.

With my appointment number in hand I sat in the waiting room. Every few minutes a bell chimes and the appointment numbers display with the appropriate department and room number. I brought a book, but everyone just waits with their eyes glued to that screen checking and double-checking their numbers to see if they are up.

As I was waiting, I heard a familiar voice. I scanned the room trying to match the familiar voice with a face I knew. But instead of an old friend or relative, the voice was from none other than Kida Khodr Ramadan* (well, I'm like 95% sure) who plays Toni Hamady on the German TV show 4 Blocks. What a small world! If it really was him…
P.s. Kida is totally just a normal, Birkenstock-wearing dude accompanying his family to an appointment.
My number chimed and I headed into my appointment. In just a few minutes of confirming my details, it was offical in the eyes of the City. I'm a resident of Berlin again!



I met an old work collegue for dinner. I took public transportation to a neighboring district across the Spree river called Friedrichshain. There we dined at a quaint little restaurant called Fatoush, a Syrian restaurant seriving super fresh, light salads with lots of options for vegetarians and vegans!

Traditionally Fatoush, فتوش is a mixed green salad served with mixed vegetables and topped with pieces of crispy flatbread bread (think Arabic croutons!) and pomagranate syrup. So filling, yet light and healthy.

After dinner we indulged in some dessert called Halawet Al Jibn a sweet cream cheese roll topped with pastachios and chocolate syrup. Although they are traditionally served with a rose water and orange blossom-infused simple syrup, this version was scrumptious!

After dinner we needed a walk so we headed back towards to Spree River in hopes of finding relief from the heat. We found just the natural "air conditioning" we were looking for at Görli.

Görli, a nickname for Görlitzer Park, is a very unique area in Berlin, often steeped in social controversy. Known as an easy place to buy and sell drugs, it made the news earlier this year for a rather unique approach to compromising on creating safe areas for families, children and pets. Read more on their "solve" for the situation over on the Guardian.

Having said that, you feel safe here in the daytime in the company of others. We bought a couple ice cold beers from a little imbis within the park and found a shady spot to talk about "Gott und die Welt" or "everything under the sun".

Once the sun started to set, that was our cue to head out of the park to the nearby subway station to go our separate ways. A glorious ending to a warm, summer day.
Day 6
I spent the morning focused on setting up the apartment. I ran errands all over the Kiez (the "hood"). Come the afternoon, I was a little stir-crazy from organizing and clearning the new apartment though. I met a friend for a photo adventure in the city.

We took the U-Bahn (literally: under ground train, or subway) to the Spittelmarkt station to go check out the Nikolaiviertel, or Nikolai Quarter.

The Nikolaivertiel, named for the Nikolaikirche (St. Nicholas Church) that stands in the center of this quarter, is like taking a little trip to "Old Berlin". Picturesque little alleyways wind around the church and off in all directions giving lots of opportunity to find little shops, pubs and cafes, and museums to check out. Colorful building facades with flower boxes line the streets making it a truly dreamy place to spend a couple hours at least!
Day 7
I slept in - Finally starting to feel on the right track after my jetlag!

I headed to one of my old haunts, Prenzlauer Berg, to meet one of my American friends at Cafe Morgenrot. This cafe is a part of a collective here in Berlin, whose mission it is to create a safe space for all to feel welcome. Political and social convictions aside, this place serves a bomb vegan/vegetarian-friendly buffet. Or if you just need a little pick-me-up, a coffee latte + a piece of cake will set you back only €3,80. To top that off, they focus on organic and fair-trade ingredients, which always helps justify any indulgence!
To cap off my first week in Berlin, I drove north for a little party at a girlfriend's brand new apartment. She showed us her new digs, ate, laughed and caught up. Couldn't have asked for a better welcome back to the City!